07/03/07 01:13 PM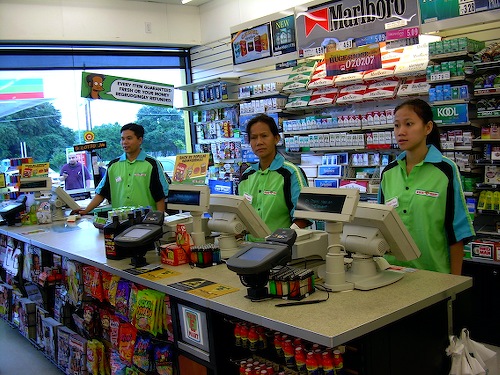 Proudly standing in for Apu Nahasapeemapetilon. Photos: Ed Bark
By ED BARK
Marketing genius can be D'Oh so easy when you have
The Simpsons
on your side.
Case in point: the Dallas 7-Eleven anointed as one of the chosen few in what's going to be a full-metal marketing campaign for the July 27th opening of
The Simpsons Movie
.
As of Monday, the 6833 Northwest Highway at Hillcrest location has been a very
Simpsons
-esque Kwik-E-Mart. It'll stay that way through July 31 as one of just 11 U.S. sites to be seen. Tuesday morning brought another onrush of tourist/customers, who snapped pictures and snapped up commemorative boxes of Frosted Krusty O's at $3.99 apiece. They not g-r-r-r-reat. But they're "The Best You Can Expect From A TV Clown."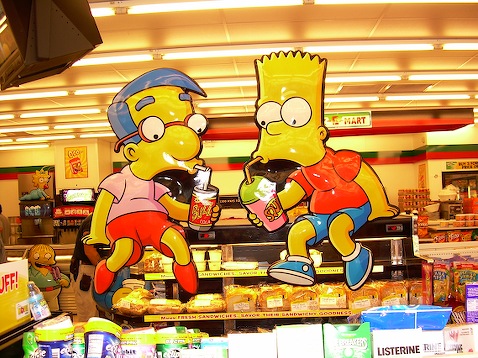 There also are limited quantities of Buzz cola and
Radioactive Man
comic books, but no Duff beer.
Simpsons
characters and signage are resplendent throughout, but be forewarned that "This is
not
a library."
It is, however, a hot spot, with parking spaces in short supply on this late Tuesday morning. The overall mood is bracingly jovial, whether it's the friendly greeters offering to take your picture or the grinning customers streaming through.
This place is a ray of sunshine amid the incessant gloom afflicting the great outdoors. Let a smile be your umbrella as you check out the First Bank of Springfield advertisement at the entrance. "Misplacing Decimal Points Since 194.5," it says.
Here's the overall point. Whatever your latter day take on
The Simpsons
, this is a very fun spot to be. So tell 'em Uncle Barky sent ya. And here's one last picture for the road.