01/30/08 01:36 PM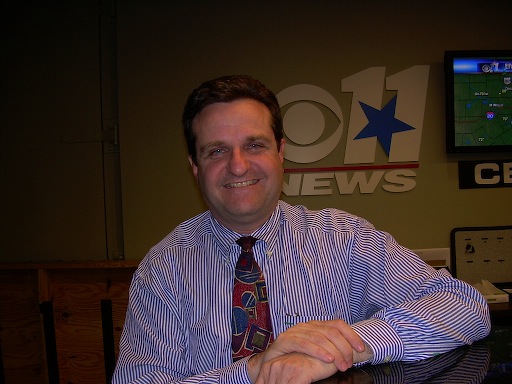 News director Scott Diener in CBS11's new newsroom. Photos: Ed Bark
By ED BARK
It's easier replacing a perceived tyrant than an acknowledged legend.
CBS11 news director Scott Diener otherwise enters the first ratings sweeps month of the new year with much the same challenge his controversial predecessor faced. The station's four principal newscasts still have miles to go before hitting the top spot in the Nielsen ratings at 6 a.m. or 5, 6 and 10 p.m. But a pair of second place finishes in November -- in total homes at 6 and 10 p.m. -- are cause for at least guarded optimism on the eve of the four-week February sweeps, which begin Thursday.
"News that is relevant to people in the community -- that's the real key," Diener says from an office bordering the station's remodeled news room. "I use that 'relevance' word all the time. We shoot a lot of things, but I don't feel like we have to put everything on the air. I want us to be aggressive, but I think it's really important that we ask why we're putting something on the air.
"Sometimes our newscast and other newscasts over-emphasize crime and mayhem. We need to do a better job of being" -- and there's that word again -- "relevant."
Diener joined CBS11 in June 2006 as assistant news director. In early spring of the following year, the station hired Regent Ducas from a Kansas City station to flog reporters with a "run 'n' gun" approach that put a premium on quick-hit live shots of crime scenes, car wrecks, fires and other assorted tragedies.
Staff morale sunk below the water line, with some reporters jumping overboard. Ratings fell, too, and on the Friday before Labor Day, Ducas was dumped unceremoniously by the man who hired him, CBS11 president and general manager Steve Mauldin. He put Diener in charge on the same day while simultaneously proclaiming another new day in the way the station would present the news.
In his first interview, Diener begins by saying, "I want as little publicity of me as possible."
But he says this with a smile. And by interview's end he's relaxed enough to laugh about an oversized 46th birthday card in his office that pictures him as a hunky, 1980s University of Missouri student being nuzzled by "an old college friend of mine." And who would that be? Sheryl Crow.
Diener came to CBS11 from Belo-owned KTVK-TV in Phoenix, where he spent two years as news director. Belo, which owns ratings-rich WFAA-TV (Ch. 8) in Dallas, also employed him at a TV station in Louisville. But Diener notes that he likewise ran the newsroom at Scripps-owned WCPO-TV in Cincinnati, which won prestigious duPont-Columbia and Peabody awards during his tenure.
"Look," he says, "Belo's a formidable competitor in this market. There's no doubt about that. WFAA, they do a lot of good things. But I feel that day in, day out, we're right there with them."
Diener's principal interest is investigative reporting, where CBS11 lately is doing a "bang-up job" in his view. He points to reporter Bennett Cunningham's November piece, titled "Overseas Adventure," on North Texas Tollway Authority executives blowing taxpayers' money on a junket to Vienna, Austria. Cunningham and his crew documented some of the excesses with hidden camera footage. He later confronted authorities back home.
"The coolest thing," says Diener, "is I get support from my boss here (Mauldin) and in New York from CBS, because that wasn't a cheap trip for us to invest in. They didn't blink. That to me was a real sign of where we are as a company and what kind of journalism we're doing."
Cunningham was at it again, coincidentally, in CBS11's Fort Worth lobby Tuesday afternoon. While a camera rolled he could be heard asking questions about what presumably was another questionable taxpayer-funded jaunt by heavy-spending government officials.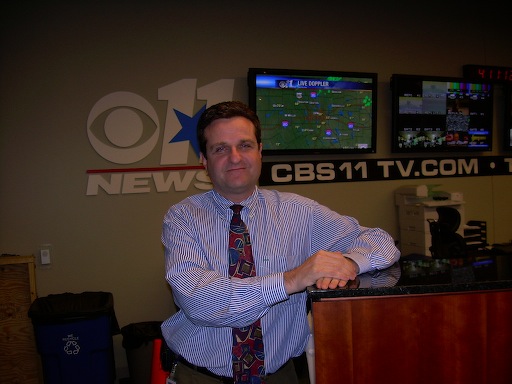 Less salutary were the station's recent heavy-handed efforts to reach 25-to-54-year-old women, who watch newscasts in appreciably larger numbers than men of that age, according to Nielsen Media Research.
In November, accompanied by salacious promotions, CBS11 had featured stories on "The Sex Diet," a cellulite-fighting cream called Butt-u-Iful and an aggressively self-promoting female doctor specializing in vaginal makeovers.
"We did some of those kinds of outlandish stories, and I think we might have gone too far on some things," Diener concedes. "Whatever little stunting we may have done, I'm not sure that always works."
Women in the 25-to-54 demographic "are interested in stories that are important to the community, too," he says. "They don't only care about where to get the best pedicure or something. I mean, c'mon! That demeans their intelligence."
"Thank you," interjects communications director Lori Conrad, who's monitoring the interview.
There's also the matter of anchor banter, currently in short supply on CBS11's early evening and 10 p.m. newscasts but a staple ingredient on Belo8. Principally jabbing at one another are weatherman Pete Delkus and sports anchor Dale Hansen, with news anchor Gloria Campos regularly joining in while John McCaa does his best to roll with the punchlines. Belo8 executives say viewers seem to enjoy the byplay, which doesn't kick in until the second halves of newscasts and isn't doesn't done to excess in their view.
"I don't have any problem with bantering," Diener says. "But I don't expect Larry (new weatherman Larry Mowry) and Babe (sports anchor Babe Laufenberg) to be the Pete 'n' Dale show.
"It's gotta be natural," he adds. "I've worked with enough anchor teams and seen enough of them where the only time they ever talk to each other is that 30 minutes when the red (camera) light comes on. Then they leave that studio and they won't talk again unless they're yelling at each other. We don't have that here. This is one of the most civil news operations I've worked in."
Diener carefully addresses a question on why CBS11 hired Mowry from an Orlando, FL station and put him on the featured 10 p.m. newscasts in place of Kristine Kahanek, who's still forecasting in the early evenings.
"Well, Larry brings so much to the table for us," Diener says. "He's a weather nerd. We feel like weather is really going to be important to us, and how can we enhance that team? We have Kristine here, too, so it only adds to what we've got going on here. But the thinking was, 'What do we need to get ourselves to the next level?' "
The coming sweeps month will yield more report cards, with CBS11 hoping to sustain what Diener calls "a lot of good, forward progress in the last four or five months."
"We've got to be aggressive out there," he emphasizes. "Six or seven years ago, our station wasn't even up in the newsrooms around the city. People wouldn't even pay attention to us. They're paying attention now."