12/19/07 11:17 AM
By ED BARK
It's been quite a year in North Texas TV, and unclebarky.com has strived to keep you on top of it all. From this perspective, here's a countdown of 2007's most notable happenings.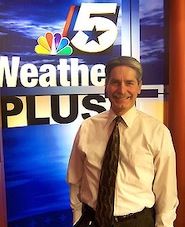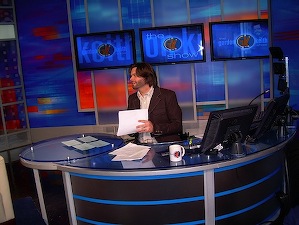 10. Hack attack
-- Weatherman David Finfrock's persistent on-air coughing fits prompted NBC5 to lead off the February "sweeps" with a heavily promoted story on what ails him. Basically, it's allergies. The gambit briefly put the Peacock in first place at 10 p.m. in its battle to somehow keep Belo8 at bay. But its newscasts soon would need a flu shot.
9. Strait-laced corp. loosens up with court jester
-- Belo's image as a conservative, safety-first media company got a jolt with the hiring of "Ticket" bad boy Gordon Keith. His weekly late night talk show premiered in February on Ch. 52 (with which Belo has an operating agreement) before moving to the Ch. 8 mothership in the fall. Keith then ascended to further heights in December as the inaugural guest on the monthly Uncle Barky Show. Next up: Tracy Rowlett on Jan. 19th. Further details to come.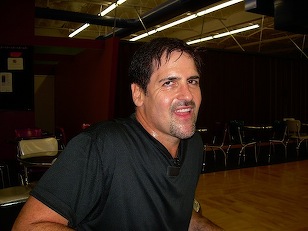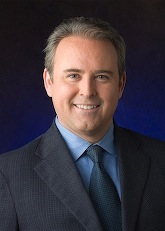 8. Mavs man hits ABC's hardwoods
-- Still recovering from hip replacement surgery, Dallas Mavericks owner Mark Cuban threw himself into the fifth edition of ABC's
Dancing with the Stars
. In tandem with lush partner Kym Johnson, he made the hit show's Final 8 after outlasting fellow celebrity competitors Josie Maran, Albert Reed, Wayne Newton and Floyd Mayweather, Jr. His eviction came just in time for basketball season. Nice timing.
7. Early morning scramble
-- CBS11 tried to arouse its last place waker-upper by hiring former Belo8 morning man Scott Sams, who joined Shannon Hori in April. Hori then left in July for Miami, and was replaced by the station's Ginger Allen. Over at Belo8's
Daybreak
, Jackie Hyland departed at the end of the November sweeps to be with her family in New York. Hyland's successor, Texas native Cynthia Izaguirre, will join incumbent Justin Farmer in early January after becoming a star anchor in Albuquerque, NM. Through it all, Fox4 remains on top with its
Good Day
combo of Tim Ryan and Megan Henderson.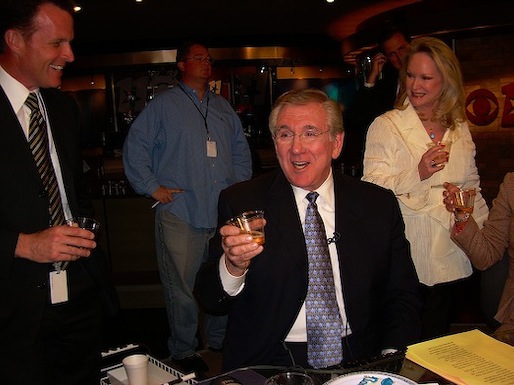 6. Stepping down, staying on
-- D-FW anchor dean Tracy Rowlett gave up CBS11's 10 p.m. newscasts on March 2nd, with Doug Dunbar stepping in to join holdover Karen Borta. Rowlett, whose North Texas news career began in the mid-1970s with Belo8, also planned to retire in July 2008. But he recently re-upped for another two years at CBS11, where he'll co-anchor 5 p.m. newscasts, contribute weekly Sunday night "Perspectives" pieces and serve as a special projects coordinator.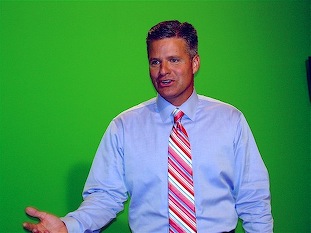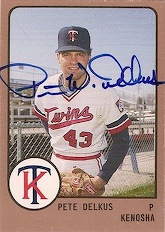 5. Throwing caution to the winds
-- Former Minnesota Twins pitching prospect Pete Delkus became Belo8's star weatherman after legendary temp. taker Troy Dungan retired on July 18th. The jocular Delkus quickly found a foil in loquacious sports anchor Dale Hansen. Their almost nightly jabs at one another, usually instigated by Delkus, were dubbed "Pete 'n' Dale's Playhouse" by a perceptive unclebarky.com reader. But Belo8's resurgent 10 p.m. ratings have rival TV stations talking to themselves.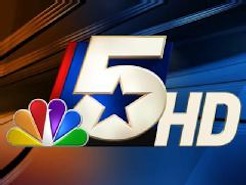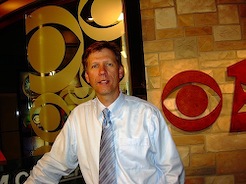 4. Crisp conversions (minus one)
-- Belo8 led the way in high-definition, converting on Feb. 2nd while also originating most of its newscasts from the shiny, new Victory Park studios. NBC5 waited until Sept. 7th to make it a twosome, but its error-plagued stealth conversion may have turned more viewers off than on. CBS11 joined in on Sept. 23rd, making a smooth transition that stood in stark contrast to the Peacock's. Still in the relative dark ages is Fox4, which hasn't yet announced a high-def launch date. They'd better hurry up, or risk becoming the equivalent of rabbit ears on an old Philco.
3. Reign of terror, error
-- Looking to revive its moribund newscast ratings, CBS11 hired Kansas City cattle rustler Regent Ducas in March as the station's new news director. His "run 'n' gun" approach failed to improve ratings and also ran off reporters such as Sarah Dodd, Mary Stewart and Tiani Jones. Feeling the heat, president and general manager Steve Mauldin abruptly sacked Ducas on the weekend before Labor Day and pledged to make CBS11 respectable again under Scott Diener, who had been assistant news director. In the November "sweeps, CBS11 jumped past NBC5 in the 10 p.m. household ratings. But it's still having serious problems holding on to the big lead-in audiences regularly provided by CBS entertainment programming.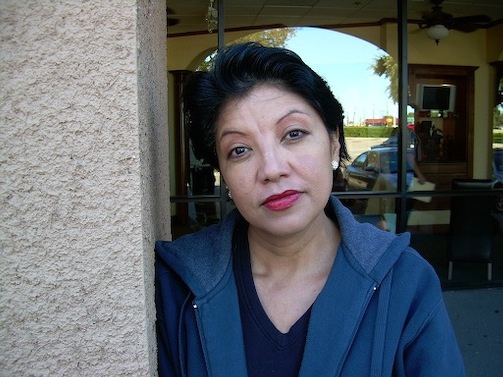 2. Still awaiting her fate
-- Fox4's Oct. 16th suspension of veteran reporter Rebecca Aguilar, less than a month after she'd been named national Hispanic journalist of the year, generated heated debate both locally and nationally. Aguilar was escorted from the station's news room on the day after her exclusive televised interview with 70-year-old salvage yard owner James Walton, who'd shot and killed two intruders in the past three weeks. Some accused her of "ambushing" him outside a sporting goods store after he had bought another gun. Others contended that one of her questions to him -- "Are you a trigger-happy kind of person?" -- went way over the line.
Aguilar gave
her side
in an interview with unclebarky.com that generated more comments by far -- 134 -- than any posting before or since. She remains on paid suspension as of this writing, with Fox4 management steadfastly refusing any comment.
1. Seems like old times
-- Belo8's 10 p.m. newscasts, which had run second to NBC5's since February 2002, returned to ratings dominance in 2007. News director Mike Valentine (pictured above with a Lone Star Emmy award) led the resurgence, in part by de-emphasizing quick-hit crime and tragedy reporting. Belo8 instead re-dedicated itself to lengthier pieces on issues of genuine import after flirting for a while with the Peacock's tabloid approach. Its impressive new studios and groundbreaking conversion to high-definition also helped to re-position Belo8 as a class act with a willingness to spend what it took to get back to the top.
In the November "sweeps" it was no contest in the late night news ratings. Only the early mornings, where the station continues to run a close second, are keeping Belo8 from a sweep of the four principal newscast competitions at 6 a..m. and 5, 6 and 10 p.m. A year ago that seemed improbable if not impossible.