10/27/09 12:24 PM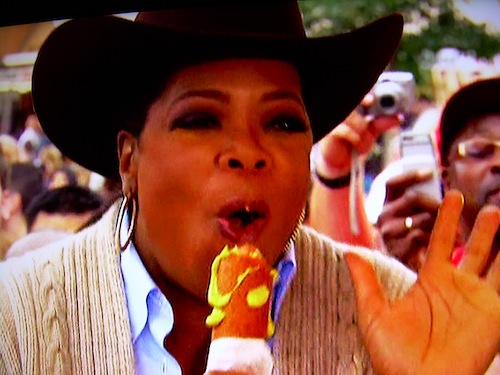 "Oh my God, I'm gonna want another one of these." Inflated ratings for Oprah Winfrey's Monday Texas State Fair show also gave viewers an appetite for WFAA8's following 5 p.m. newscast. Photo: Ed Bark
By ED BARK
Oprah Winfrey's once in a lifetime visit to the Texas State Fair yielded an increasingly rare victory over the competing
Judge Judy
Monday. It also spurred WFAA8's 5 p.m. newscast ratings.
The State Fair show lured 192,647 D-FW viewers in the 4 p.m. hour, more than doubling Oprah's audience on the previous Monday (86,359 viewers). WFAA8's followup newscast then drew an identical 192,647 viewers in rubbing out runnerup Fox4 (106,288 viewers).
On the previous Monday, WFAA8 had 112,931 viewers at 5 p.m., with NBC5 on top (132,860 viewers).
WFAA8 also rode Oprah's State Fair show to a win among 25-to-54-year-olds, the main advertiser target audience for news programming. Fox4 finished a closer second.
In the broadcast network universe, Monday's prime-time numbers again were paced by CBS'
CSI: Miami
(332,150 total viewers in the 9 p.m. hour) and ABC's
Dancing with the Stars
performance show (312,221 viewers from 7 to 9 p.m.).
CSI: Miami
also won among advertiser-craved 18-to-49-year-olds, the preferred audience for entertainment programming.
Dancing
controlled everything except the 8:30 to 9 p.m. slot, where it was beaten by CBS'
The Big Bang Theory
.
But all of the above were whipped in both measurements by ESPN's
Monday Night Football
(Eagles vs. Redskins), which averaged 352,079 total viewers and also ran wild among 18-to-49-year-olds.
NBC again struggled all night, running fifth across the board with a lineup of
Heroes, Trauma
and
The Jay Leno Show
. KERA13's 9 p.m. premiere of the locally produced
Stop the Presses: The American Newspaper in Peril
managed 19,929 total viewers.
In other local news derby results, CBS11 won at 10 p.m. in total viewers, but fell to third with 25-to-54-year-olds behind front-running WFAA8 and Fox4.
NBC5, last at 10 p.m. in both measurements, again ran first at 6 a.m., marking its ninth straight doubleheader sweep in the weekday competitions.
The 6 p.m. golds were shared by WFAA8 in total viewers and the Peacock among 25-to-54-year-olds.