06/28/07 02:05 PM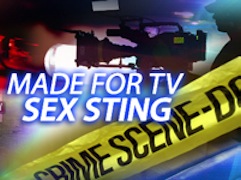 Dateline NBC is being stung hard by Belo8 investigator Byron Harris.
By ED BARK
Belo8 investigative reporter Byron Harris keeps pounding away at
Dateline NBC
and the Perverted Justice web site in connection with last November's televised arrests of alleged sexual predators in Murphy, TX.
But would the ABC station's longtime gumshoe be as vigorous if the program were named
Dateline ABC
?
It seems like a fair question, particularly when the network in Harris's crosshairs owns Belo8's arch rival for local news supremacy -- Fort Worth-based NBC5. Not a problem, Harris said in an email reply.
"I don't worry about the 'perception problem,' " he said. "I don't think anybody has it except you, frankly."
Harris subsequently answered the central question in a telephone interview Thursday while on the way to cover a bank hostage situation. Namely, "Could you devote this much time and energy to this story if it were an ABC News program?"
"I don't know. I would try," Harris said. "It wouldn't keep me from trying. It's not my decision. If someone were to tell me not to do the story, it wouldn't be me . . . I think it's less probable certainly (that he could investigate an ABC news program)."
Harris said he expects his investigation of
Dateline
to be picked up around the country, and noted that Belo Corp. owns NBC stations in other markets outside North Texas.
"You never know where a story's going to end up when you start it," he said. "I didn't know. But the more I get into it, the more blameworthy I think NBC is. We think it's a national story and I'm going to go ahead with it."
In his earlier email response, Harris said, "I don't read your column, so I don't know what you've done. On that note, did you ever apologize or retract your mistake on your comments regarding my first story?"
As a matter of fact, yes, of which Harris was informed after an unclebarky.com critique of his first
Dateline NBC
expose on May 8th. Harris took a third swing at
Dateline
and Perverted Justice last Friday (June 22nd), duly noting that "News 8 broke the story on the problems with that case."
In Harris's first story, he reported that "not one case has gone to court" since 24 arrests were made by Murphy police while the
Dateline
cameras rolled. Why? Because of "poorly gathered" evidence and "botched" paperwork, Harris said.
I initially reported, erroneously, that one arrest and conviction in fact had been made. But after Harris complained, I re-checked my information and saw that the man, Ali Vagefi of Tyler, had been arrested in July of 2006, four months before
Dateline
's "To Catch a Predator" sting operation began in Murphy.
Perverted Justice, but not
Dateline
, aided Murphy police in the bust of Vagefi, who was sentenced in April of this year to five years in prison for attempting to solicit sex from a decoy posing online as a 14-year-old girl.
"That'll be time that at least kids are safe from that one person," Murphy city manager Craig Sherwood was quoted as saying in an April 19th
Dallas Morning News Story
that was posted on Belo8's web site next to Harris's first expose.
All of this was noted in the correction to my initial critique. I then wrote, "So there at least was precedent -- and maybe even good reason -- for the Murphy police department partnering with Perverted Justice, and by extension,
Dateline NBC
."
Harris hasn't mentioned the Vagefi conviction in either of his two stories. Instead he's gone hard after
Dateline NBC
and Perverted Justice, which he says won't talk to him. Murphy police chief Billy Myrick lately won't talk to him either, Harris told viewers in Friday's second story on the sting operation.
He instead showcased "an exclusive interview" with Collin County District Attorney John Roach, who said of the Murphy police department, "If they had been in control of this situation we could have good cases to present. They're a professional organization and they know what they're doing. What they did instead though is abdicate completely to outsiders, frankly, who don't know diddly squat frankly about law enforcement."
Harris says he's not finished.
"I've got one more
Dateline
story coming up, so that will give you a new hook," he said in his email reply.
Let's be blunt. There's less than a scant chance that Harris would be allowed to do four separate investigations of an ABC news magazine program such as
20/20
or
Prime Time Live
. This is after all The Belo Corp., whose
Dallas Morning News
has been banned from critiquing local TV news operations since February 2000.
Harris is allowed to run wild, however, when the prey is a rival network. His overall reporting isn't necessarily at issue, although it would seem that outing would-be sexual predators on camera might be a deterrent in itself whether they're eventually convicted or not.
"We're in a situation now where reality television, journalism and fiction have melded into one stream of consciousness," Harris said. "Is what
Dateline
and Perverted Justice do journalism? No. Does it serve some public interest? It may. Is it legal? Probably not."
In Harris's view, though, the perception of what he's doing is a non-issue with just about everybody except the guy who used to be the TV critic at
The Dallas Morning News
through good times and bad.
Maybe he's right. But seriously, what if it were
Dateline ABC
?