02/27/09 10:34 AM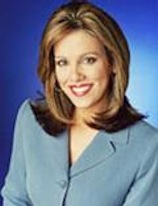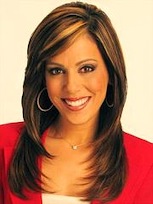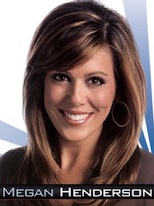 By ED BARK
Fox4 sent its resident glamour girl off with a l-o-o-o-o-ng goodbye Friday while rival station managers turned cartwheels in their heads.
"So I thought that if I kept hitting the snooze button this morning that this day wouldn't happen,"
Good Day
co-anchor Tim Ryan said at the show's 5 a.m. start time.
Good Day
then devoted much of its four hours to a "Mega Megan Celebration" in honor of departing co-anchor Megan Henderson, who's leaving to take a morning anchor/reporter job at KTLA-TV in Los Angeles.
"You guys. I feel like I've died . . . I am so not worthy of all of this," she said near the end before Emerald City serenaded her with one of her favorite songs, Earth, Wind and Fire's "Dancing In September."
Henderson was last seen clapping along to the band's performance of the
Good Day
theme song. She wore a bright yellow/orange dress and was surrounded by many of her on-air colleagues, including Ryan, Evan Andrews, Chip Waggoner, Mike Doocy, Krystle Gutierrez, Dan Godwin (who will be filling in for her at least temporarily, beginning Monday), Steve Noviello, Shaun Rabb, "Stylin' Steve" Kemble and former Fox4 weathercaster/reporter Maria Sotolongo, who also brought her baby daughter.
Fox4 has prospered in the early morning ratings for much of Henderson's
Good Day
stint with Ryan, whom she joined in August 2003. But that was then, and NBC5 has taken charge of the early morning ratings for much of this year. On Thursday, Henderson's penultimate day, the Peacock won for the fifth straight weekday in the 6 to 7 a.m. Nielsens.
Henderson was a star player, though, and her absence clearly will be felt in the short term at least. Or as street reporter Saul Garza put it in his final farewell to her: "That anchor seat will be filled, but you'll never be replaced."
Some were put off their feed by Friday's extended goodbye to Henderson. To her credit, she called attention to a viewer named Mary, who asked via email, "Are we going to have to listen to this boo-hoo (stuff) all morning? Give us a break." Henderson also noted that Mary had called her a "moron."
"We don't care if you love us or hate us. As long as you watch," Ryan added.
Others blamed Ryan for running Henderson off. Not so, she said. "He's not the reason. Not even close. You haven't driven any of them away. Well, maybe the first two. But definitely not me."
As noted previously -- and numerous times during her sendoff -- Henderson's official reason for leaving Fox4 is that she wants to be closer to her family. She was raised in San Clemente, CA.
"I love this place so much," Henderson said near show's end. "And you don't leave any place you love unless there's family out there."
"Even the bosses like you," Ryan noted.
The bosses at Fox4 have declined to comment publicly on Henderson's departure. But they did allow her to have what likely was the most prolonged on-air sendoff in the station's history. Whatever the station, many on-air personalities barely get to say goodbye -- if that. But Henderson was showered with gifts, tributes and mostly fond farewells -- save for Mary.
Postscript:
Megan Henderson truly is one of the nicest and most unaffected D-FW news personalities I've ever covered. So all the best to her in L.A., where it's harder to be humble and easier to be eaten alive.
Meanwhile, the bosses at NBC5, WFAA8 and CBS11 are very happy to see Henderson go. Her departure likely will make it a bit easier for them to make headway in the highly competitive early morning ratings race. But Fox4 won't be a pushover, and no one is irreplaceable. Let's see how it all shakes out.