Handler views Dallas through unique prism
01/20/10 11:08 AM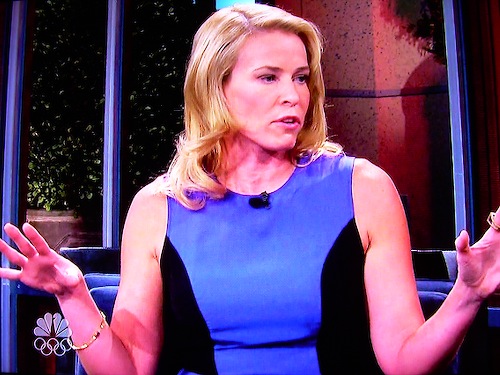 Chelsea Handler on Tuesday's Jay Leno Show. Photos: Ed Bark
By ED BARK
I've been watching NBC's nighttime talk shows to see what the hosts might say next. But on Tuesday night, it was something guest Chelsea Handler said on
The Jay Leno Show
.
The
E! talk show host
and author of the bestselling
Are You There, Vodka? It's Me, Chelsea
showed up to promote her new book,
Chelsea Chelsea Bang Bang
, which has a March 9th publication date.
She listed Dallas among her favorite cities to visit while flogging books. Leno then asked her why.
"There's a big lesbian community in Dallas," Handler said, "and it's really funny because they're like very high-end lesbians and so close to all the Republican people. I just think it's kind of funny (because Republicans say "f you" to gays, in her view). So that's why I like to head down there."
Handler noted that she's not gay, save "for one weekend a long time ago." She's next due in Dallas on April 24th. Circle your calendars.
Leno, during a later "Internet Search" segment, typed in the words "infectious smile, butterfingers" and "early vacation." Up popped a picture of Cowboys QB Tony Romo. Har-de-har.
Funnier was Leno's punchline to the words "infidelity, Viagra, AARP." That would be David Letterman, who's been pounding away at Leno and NBC Universal chieftain Jeff Zucker on his CBS
Late Show
.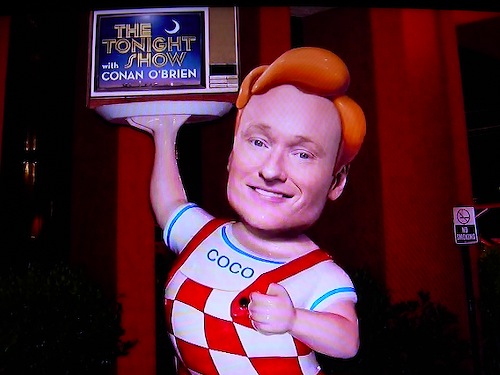 Meanwhile, on
The Tonight Show with Conan O'Brien
, the soon-to-be-gone host basked in another prolonged standing ovation and chants of "Conan, Conan."
"I am just three days away from the biggest drinking binge in history," he said, referring to his decision to leave the show at the end of this week rather than submit to NBC's plan to push it back a half-hour in favor of a new late-nighter hosted by Leno.
O'Brien again noted reports that contend he's legally prohibited from saying anything negative about NBC. So this time he trashed the network in Spanish, with English subtitles reading: "NBC is run by brainless sons of goats who eat money and crap trouble."
He also thanked fans for showing their support at various rallies. An
"I'm with Coco"
Facebook fan page also has emerged, with 472,990 fans as of this writing.
Down the homestretch, show biz biggies have been clamoring to appear with O'Brien. The guest list for the rest of this week includes Tom Hanks, Will Ferrell, Robin Williams and Barry Manilow among others.
Leno, of course, again has taken the brunt of the abuse. That's not entirely fair. But that's show biz. And in the end, Leno will get the last laugh by returning to the
Tonight Show
while O'Brien walks away with a reported $40 million buyout and a likely chance to work for Fox.