Take Dale out to the ballgame/buy him some peanuts and crackerjack -- courtesy of our charity fundraiser
09/09/09 02:52 PM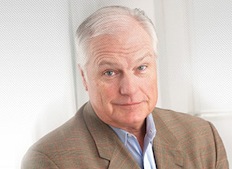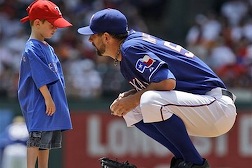 Dale Hansen needs to be re-schooled in the great game of baseball.
By ED BARK
The Texas Rangers toyed with Cleveland Wednesday afternoon, demolishing the Indians 10-0 to sweep a three-game road series.
Now it's back to Arlington for a highly eventful 9-game homestand and a possibly pivotal series with the Angels on Sept. 18-20. At worst, the Rangers will enter Friday's series against Seattle just two games behind Boston in the race for the American League's wild card playoff spot. Incredible.
Meanwhile, WFAA8 sports anchor Dale Hansen says budget cuts at his Dallas-based station "don't allow me to go to Rangers spring training or Rangers games anymore" to do his sports segments live from those scenes.
Not only that, "I spent two weeks in San Antonio and didn't bill the station for food (during Cowboys training camp). And you know that had to be a fortune," he says.
Hansen,
twitted in a recent unclebarky.com post
for regularly dumping on or downplaying the Rangers, is the only sports guy in town with big enough balls to say such things on the record. He invariably gives as good as he gets, whether being a boorish gasbag or scoring points with his pointed opinions.
So let's mess around with him a little more. If WFAA8 can't or won't send him to a Rangers game for a live sports segment, then why don't we do it via unclebarky.com's official
"Take Dale Out to the Ballgame" fundraiser.
By the way, he's all for it. And believe me, he had nothing to do with this idea.
"If you want to start a fund, pick a number and the money goes to a charity other than me," Hansen says. "Although most people probably would pay me
not
to go."
In other words, you can't lose. Just stick a contribution in an envelope -- at least $1 would be nice -- and address it in one of these two ways:
Take Dale Out to the Ballgame
(c/o Dale Hansen)
Or
Don't Take Dale Out to the Ballgame
(c/o Dale Hansen).
The rest of the address is:
WFAA-TV
606 Young Street
Dallas, TX 75202
The charity, which Hansen has supported in the past, is the
Bobby Bragan Youth Foundation
to benefit underprivileged kids. Bragan, of course, has a long history with Texas baseball, so that makes it a doubly good choice.
Admittedly this'll require a little effort. You'll actually have to address an envelope, affix a stamp and go to a mailbox. But c'mon, it won't kill ya. Imagine a wheelbarrow full of envelopes dumped in Hansen's office. Penny-poor unclebarky.com already has its contribution in the mail. So we'll at least raise a few bucks.
Meanwhile, Hansen says he'll cajole his bosses to send him on the station's own dime during the upcoming Rangers' homestand.
"I'll check with my guys and see if we can't figure out a way to do it," he promises. "But I also promise you this. Getting the engineer and truck might be damn near impossible. I'm not saying for a moment that I like it. I'm just saying it's our brave new world."
Spoken with typical Hansen candor. Sometimes a blowhard can be a breath of fresh air. So let's start stuffin' those envelopes and spreadin' the word. Home run, strikeout or bunt single, we'll keep you apprised of how it goes.