Farmer's market: a look at WFAA8's former early riser in new guise at Atlanta's WSB-TV
06/17/09 11:05 AM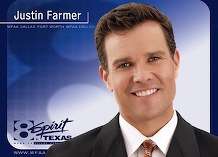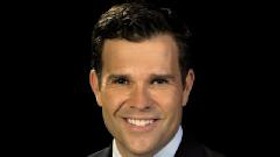 Justin Farmer in old WFAA8 pic and new one on WSB-TV Web site.
By ED BARK
It's been a little less than a year since
Justin Farmer
left Dallas-based WFAA8's
Daybreak
to take an evening anchor-reporter job with WSB-TV in Atlanta, where his father, Don, had been a heavyweight in the 1980s and '90s.
WFAA8 subsequently deployed two interim
Daybreak
anchors -- Brad Hawkins and Jeff Brady -- before hiring current incumbent Chris Flanagan. He arrived from Des Moines, Iowa in March to join co-anchor Cynthia Izaguirre.
Farmer since has let his hair grow out a bit and is hitting the streets more. In this mid-April WSB report, he turns out to be a notably hyper hand-talker at the start and stop of his piece on a big shakeup in Atlanta's mayoral race. Advice from afar: dial it down a notch or three. Maybe sip some green tea. Have a look.