Rangers to play most of 2009 season on cable/satellite
02/20/09 12:31 PM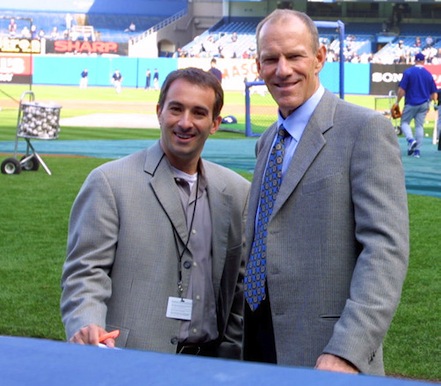 Josh Lewin and Tom Grieve again will team on Rangers telecasts.
By ED BARK
Batter up -- and pony up, too. Less than one-fifth of Texas Rangers games will be shown on free broadcast TV this season, with Fox Sports Southwest carrying an all-time high 133 games, according to the schedule announced Friday.
That includes the entire months of July and August on Fox Sports Southwest, which last year had 110 games. A majority of the games will be in high-definition, with a complete schedule of HD presentations to be announced later.
The April 6th season opener, at home against the Cleveland Indians, will still be available to all viewers on Fox4, which has no other games scheduled. MY27 has 24 games in the mix, with four planned national telecasts adding up to the season's entire 162 game-schedule on some form of TV.
From June 29th through Sept. 4th, all of the currently announced Rangers games will be on Fox Sports Southwest, which also is showing five pre-season matchups, beginning on March 7th against the Chicago White Sox.
Josh Lewin and Tom Grieve are teaming for their eighth season as the Rangers' TV voices.