Local Nielsen ratings snapshot (Fri.-Sun., Aug. 7-9) -- Millionaire performs like (A) a million bucks; (B) two cents; (C) 25 grand; (D) newspaper stocks
08/10/09 10:00 AM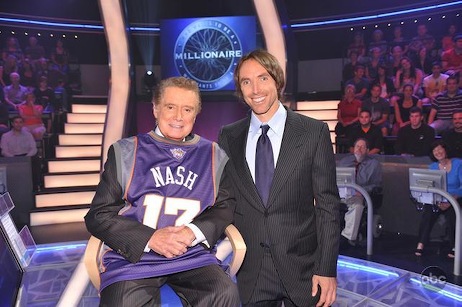 Former Mav Steve Nash will be on Aug. 20th Millionaire.
By ED BARK
The thrill is gone -- at least in D-FW.
Sunday night's heavily-trumpeted 10th anniversary return of
Who Wants to Be A Millionaire
had nickel-and-dime ratings, falling well short of even ABC's preceding repeat of
America's Funniest Home Videos
. The network also bombed with the premiere of
Shark Tank
.
Millionaire
, launching an 11-episode run at 7 p.m., drew just 119,574 viewers after
Funniest Home Videos
handed off 219,219 viewers. That gave
Millionaire
the edge over CBS' competing
Big Brother 11
(a measly 53,144 viewers) and an overall tie with Fox's back-to-back reruns of
The Simpsons
.
NBC ruled the 7 to 8 p.m. hour -- and the night -- with a pre-season NFL game between the Buffalo Bills and Tennessee Titans. It drew 345,436 viewers from 7 to 8 p.m. and averaged 325,507 viewers overall.
Millionaire
also tanked with advertiser-craved 18-to-49-year-olds, nipping
Big Brother
but otherwise losing to NBC and Fox.
Shark Tank
, a new reality series in which striving entrepreneurs humble themselves before potential well-heeled investors, followed
Millionaire
with just 99,645 total viewers. NBC won the hour, Fox's cartoon repeats ran second and CBS lagged out of the money with the premiere of yet another reality dollop,
There Goes the Neighborhood
(59,787 viewers).
Shark Tank
sank to fourth, however, among 18-to-49-year-olds.
ABC's
Defying Gravity
, a fairly decent intergalactic scripted series which premiered the previous Sunday, had just 79,716 viewers at 9 p.m., tying for third place with CBS'
Cold Case
reprise. But
Gravity
ran a distant fourth in the 18-to-49 demographic.
Earlier Sunday, Tiger Woods' 70th PGA tournament victory averaged 106,288 total viewers on CBS, peaking at 166,075 in the closing 15 minutes. That's a substantially bigger audience than
Millionaire
could muster.
In Friday's local news derby results, CBS11 took the gold at 10 p.m. in total viewers while WFAA8 prevailed among 25-to-54-year-olds, the main advertiser target audience for news programming.
NBC5 again swept the 6 a.m. competitions, where WFAA8 fell to last place in the 25-to-54 demo and tied CBS11 for third in total viewers.
WFAA8 ran first at 6 p.m. in total viewers, with Fox4 on top with 25-to-54-year-olds.
Fox4 had twin wins at 5 p.m., where WFAA8's ratings woes continued at the close of Shelly Slater's first week as the program's new permanent co-anchor. WFAA8 ran fourth in total viewers and managed a third-place tie with CBS11 among 25-to-54-year-olds.