Action Jackson: world's foremost Michael mimic does one-nighter at The Lodge
08/18/09 08:15 AM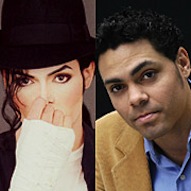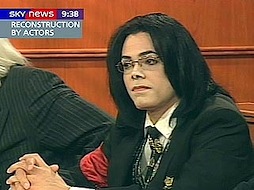 Edward Moss (center) has played Michael Jackson both onstage and during the E! cable network's 2005 reenactments of his child molestation trial. Lately he's busier than ever. Wonder why?
By ED BARK
Are you repulsed yet by
Entertainment Tonight
's never-ending posthumous "investigation" of Michael Jackson?
Has all the tabloid TV/TMZ bone-picking got you down? Well, here's an antidote, provided you don't mind patronizing The Lodge, classiest of the city's gentlemen's clubs and the only one owned by a woman. The Lodge is hosting a
6 to 9 p.m. '80s party
Tuesday (Aug. 18), with a show by world-renowned Jackson impersonator Edward Moss.
One of the club's managers (and self-described "writer in residence") is former
Dallas Morning News
colleague Michael Precker. He's found it difficult -- actually impossible -- to interest any of D-FW's local morning shows in talking to Moss. Fox4's
Good Day
and WFAA8's
Good Morning Texas
both turned him down. That's because those stations have scruples when it comes to mentioning appearances at gentlemen's clubs.
Instead, Fox4 tastefully carries
TMZ
and will air its parent network's two-hour
Octomom: The Incredible Unseen Footage
Wednesday night. And WFAA8 is home to TV's No. 1 vomit comet,
Entertainment Tonight
. Ever try watching one all the way through?
Anyway, Moss, 32, has a string of film and TV credits as Jackson, including
Scary Movie 3, Scary Movie 4, Date Movie, The Steve Harvey Show
and
MADtv
. He also suited up as Jackson in those nightly E! cable network reenactments of his 2005 child molestation trial. And he's played "Mr. Diamond," a Jackson lookalike, in an episode of FX's
Nip/Tuck
.
Here's a brief video, from CNN, of Moss putting on his game face, etc.