Ripened Dallas eyeful on 2nd season of TV Land's She's Got the Look
04/16/09 01:39 PM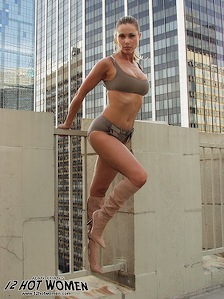 Locken as "Agent December" and under other circumstances.
By ED BARK
TV Land's second season of
She's Got the Look
includes a D-FW looker among 10 contestants vying to "become the next great supermodel" -- 35 years of age and older.
She's Leeanne Locken, 41, raised in the Houston area but currently living in Dallas.
Press materials say Locken "has always been a performer and does not shy away from speaking her mind. She wants to prove to her family that she can accomplish anything she sets her mind to do."
She previously set her mind to play "Agent December" in
12 Hot Women
, a 2003 made-in-Dallas short film directed by Alan Chan. Its website describes it thusly: "We know what you really go to the movies for. That's right -- you wanna see hot women. Who cares about a plot when you have a bevy of beautiful babes in bikinis? Who cares about the story when hot women are carrying big guns? We give you exactly what you want to see."
Locken's
film credits
also include
Miss Congeniality, Walker, Texas Ranger, My Best Friend is a Vampire
and
Vasectomy: A Delicate Matter
. In her most recent outing, 2006's
Caching In
, she was cast as "Woman in Cemetery."
Season 2 of
She's Got the Look
, scheduled to launch in June, will award the winner $100,000, a contract with Wilhelmina Models, Inc. and a photo spread in
Self
magazine. Hosting is former supermodel Kim Alexis. It's supposed to last eight episodes.