Chaos drama series coming to North Texas, making it a network TV foursome
05/25/10 04:39 PM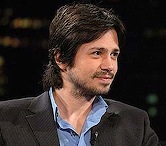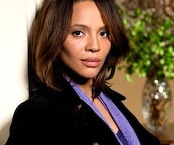 Freddy Rodriguez, Carmen Ejogo and Eric Close of Chaos.
By ED BARK
It's looking like
Chaos
in Dallas -- both the new CBS series and the prospects of juggling not one, not two, not three, but four prime-time dramas at once in the coming months.
The Dallas Observer
's
Robert Wilonsky reported
on the Unfair Park blog Tuesday that a mid-afternoon news conference will be held Wednesday to unveil "an additional television series coming to the Dallas area."
Both Gov. Rick Perry and Dallas mayor Tom Leppert will be in attendance, according to the Texas Film Commission.
The Observer
didn't name the series, but said the pilot was shot in L.A. by 20th Century Fox Television as a candidate for the CBS schedule.
That could only be
Chaos
, a drama about a group of rogue CIA operatives with two familiar TV faces in the cast -- Freddy Rodriguez from HBO's
Six Feet Under
and Eric Close of CBS'
Without A Trace
.
Chaos
was the only spring pilot produced for CBS by Fox. And it's director, Brett Ratner, has a strong North Texas connection. He directed the pilot episode of Fox's
Prison Break
, whose second and third seasons filmed in the Dallas area. Ratner also was a co-executive producer on the series.
Chaos
, whose other co-stars include Carmen Ejogo (NBC's
Kidnapped
) and Tim Blake Nelson (
The Incredible Hulk
movie), was not picked up for CBS' fall lineup. So it likely would be a midseason replacement unless the network dropped one of its previously announced fall series.
As previously reported,
NBC's Chase
and
Fox's Lonestar
both are slated to film in North Texas after making their respective networks' fall schedules. A third series,
Fox's made-in-Dallas The Good Guys
, has been filming here since late January, with production offices in Fair Park. The serio-comic cop series had a sneak preview last week and will begin a summer run on July 7th. As of this writing, it's also slated for Fridays on Fox in the fall.
Add two made-in-Austin dramas -- NBC's
Friday Night Lights
, ABC's upcoming
My Generation
-- and that's a total of six hour-long network series calling Texas home.