Idol auditions in Dallas send 31 to next rung in Hollywood
01/28/10 08:07 AM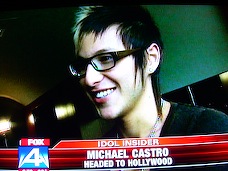 Golden Ticket winners Dawntoya Thomason of Dallas and Michael Castro of Rockwall were featured exclusively on Fox4's "Idol Insider" segment during Wednesday's 9 p.m. newscast. Photos: Ed Bark
By ED BARK
Thirty-one Hollywood-bound "Golden Ticket" holders, including a kitten with a whip who co-starred as a kid on
Barney
, emerged laughing, crying and screaming from Wednesday's
American Idol
auditions in Dallas.
As always, the Fox cash cow fostered the illusion that the Simon Cowell-led judging contingent saw every last one of the more than 11,000 who showed up at Cowboys Stadium last summer.
In reality, "fewer than one hundred" were called back to The W hotel in August, veteran "Idol Insider" Brandon Todd told viewers on Fox4's 9 p.m. newscast. Those auditions -- the good, the bad and the ugly -- were the ones captured on camera Wednesday night during performances before Cowell, Randy Jackson, Kara DioGuardi and guest judges Neil Patrick Harris (great job) and Joe Jonas (barely said a word).
Fox4 had "exclusive access" to those auditions, but couldn't breathe a word until after Wednesday's show. The heavily hyped "never-before-seen" footage in fact was worth seeing. That's because Todd had interviews with two Golden Ticket bearers who weren't a part of the preceding one-hour audition show.
Dawntoya Thomason is a vibrant, big-smiling mom and pastor's wife from Dallas. Michael Castro of Rockwall is the decidedly different looking brother of Jason Castro, who made Season 7's final four. Both will be heading to Hollywood to take their shots.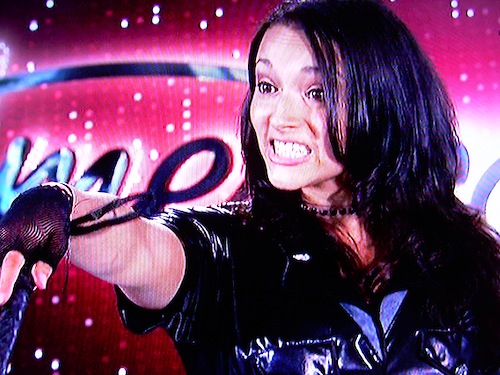 Formerly with Barney, Irving's Erica Rhodes happily cracked a whip.
On the big show, 23-year-old Erica Rhodes of Irving first had to sing the
Barney and Friends
theme song for the amusement of judges before she warbled her way to Hollywood with En Vogue's "Free Your Mind."
Rhodes was a vision in black leather and boots, brandishing and cracking a whip in what she said was proof that child stars from
Barney
in fact can grow up. But she was sweet and giggly about it, and may well make a bigger impression after
Idol
moves beyond the audition rounds.
"I'm gonna whip it in Hollywood," she proclaimed.
Also getting their passports to Hollywood in featured segments Wednesday:
***
Lloyd Thomas, 29, a dockworker and father from Dallas who talked of surviving a violent, drug-ridden inner city neighborhood. "Oh my Lord Jesus goodness," exclaimed Thomas, who has the size and velvet-y voice of Season 2 champ Ruben Studdard.
***
Kimberly Carver, a 26-year-old schoolteacher from Denton. Cowell dissented on a 3-1 vote.
***
Todrick Hall, 24, an actor/playwright from Arlington who has appeared in productions of
Fantasia
and
The Color Purple
. Looks like a very strong contender.
***
Maegan Wright, 20, of Richardson, who showed up with her little brother, Dawson, 10. The show made a point of saying her parents are divorced, and the two siblings are very close because of it. She auditioned unsuccessfully for a previous
Idol
competition.
***
Christian Spear, 16, of Houston, who is an eight-year survivor of childhood leukemia.
***
Dave Pittman, 27, of Mountain Home, Arkansas, who has Tourette's Syndrome. It doesn't bother him when he sings, though.
Otherwise the night's train wreck contingent was led by hapless Julie Kevelighan of Fort Worth, a 28-year-old college student who bombed at the very first
Idol
auditions in Dallas. She's still delusional -- as far as her talent -- but the judges of course had a good time mocking her.
Later came cocksure Dexter Ward, 20, of Terrell, who's unemployed but was judged to have a nice smile after butchering a song. He then broke down in tears.
Substitute teacher Vanessa Johnston, 22, of Waxahachie, easily was the most appealing off-key hopeful. Bubbly and buoyant, she agreeably laughed off Cowell's assertion that her singing is "what my nightmares look and sound like."
Video interviews with all 31 of the Dallas audition survivors are on americanidol.com, although it'll be quite a chore to get through all of them. That's because each and every one is preceded by a commercial, beginning with Gold Ticket winner Alex Lambert of Richland Hills and ending with Zachary Hickman of Mayflower, Arkansas. But those with ample time on their hands can
start the process here
.
Meanwhile, here are the auditions of Erica Rhodes and Todrick Hall: