02/22/12 01:27 PM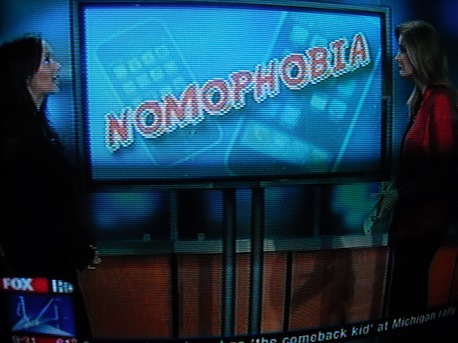 Anchor Heather Hays (right) at first had no idea either. Photo: Ed Bark
By ED BARK
Increasingly reverting back to its old crime blotter ways, NBC5 led Tuesday's 10 p.m. newscast with a purse-snatching.
Fox4, on its 9 p.m. edition, recanted an erroneous report and gave viewers the news on "Nomophobia" and "Me-Ality" before anchor
Steve Eagar
agreed with a "Viewers' Voice" accuser that he's a pompous ass.
Your friendly content provider's head thereby stopped just short of detonating on this seventh and last day of February "sweeps" late night news monitoring. But that's only because WFAA8 and CBS11 injected some worthwhile reporting into their 10 p.m. mixes.
Fox4's one-hour featured newscasts compete directly against network entertainment programming. So a little seltzer in your pants perhaps can be overlooked.
But NBC5 really has no excuse for its relapse. After showing some signs of vitality and worthy enterprise in recent "sweeps" periods, the Peacock seems to be falling back into a rip 'n' read mentality in which capable, seasoned street reporters are being wasted on inconsequential spot stories spiked with foul play.
Veteran reporter
Ellen Goldberg
started with a top-of-the-newscast story on a weekend NorthPark purse pilfering. Her angle: a "Good Samaritan" named Fleming Longino used a "Blackberry and some quick thinking" to get a picture of the black Nissan Centra that sped from the scene after the parking lot robbery.
Anchors
Meredith Land
and
Brian Curtis
led viewers to believe that the photo clearly identified the robber. Or at least clearly pictured the auto's license plates. But the image was blurry at best, and no license plate number or further identification accompanied the story. Even though Longino said she had "shouted the license plate out" while snapping a picture.
So where's the real value, other than a witness at least trying to do the right thing? But NBC5 took a bait-and-switch approach while Goldberg unfortunately played along by sitting live in a parked car with a gold purse in the front passenger seat.
Later in the newscast, NBC5's
Scott Gordon
reported on yet another instance of "squatters' rights" deadbeats being kicked out of a home they had no right to occupy in the first place. WFAA8 had big picture stories on this practice several months ago. They've now become as commonplace as -- a purse snatching.
Readers of these compendiums might also remember that NBC5 gave prominent play on Monday's 10 p.m. edition to a mass TXDOT traffic camera outage caused by electrical damage from a burst water pipe. It was a valid story, and Fox4 also reported it.
But here's the difference. NBC5 took the cheap alarmist approach, with Land twice telling viewers that the outage "could slow down your commute for days, even weeks." Fox4 said that the entire camera system should be back on line by sometime Tuesday. And that's exactly what happened, with NBC5 of course making no mention of its previously stated worst case scenario during a brief, buried update on Tuesday's 10 p.m. news.
This monitoring period, which began on Monday, Feb. 13th, came and went without any weeknight sightings of lead NBC5 sports anchor
Newy Scruggs
, even though it's the heart of a ratings "sweeps" period.
Matt Barrie
instead mostly filled in. And Barrie's body language -- and occasionally his verbiage -- made it pretty clear that he felt left on an island during the closing anchor jibber jabber. On Monday night, Barrie referred to himself as the "smelly sports guy." On Tuesday he simply threw his hands up. Good times.
On to Fox4, where the Tuesday 9 p.m. newscast included an apology by co-anchor
Heather Hays
. It was tied to the station's handling of Monday's lead story on the alleged abduction of a young Frisco woman who said she wound up escaping from her captor at a Muskogee, OK ice cream shop.
Hays and reporter
Natalie Solis
both said that the woman told Frisco police she had been sexually assaulted. On Tuesday night, Hays told viewers, "We mistakenly reported that (Bethany) Stroud told police she was sexually assaulted. Frisco police say she did not make that claim."
NBC5, WFAA8 and CBS11 also reported on the alleged abduction, but without making the same mistake.
Earlier Tuesday, Hays shared the Fox4 studio stage with giggly Charity Adams of the Noyau Wellness Center. Their topic was "Nomophobia," a term that both women said they had never heard of until someone at the station decided to devote a segment to a survey that said growing numbers of cell phone owners get very upset when they don't have them or think they've lost them. Ergo, "Nomophobia."
Fox4's
Clarice Tinsley
, who lately presides over two "Your Turn" Facebook segments per newscast, expressed surprise that the first one -- on a possible U.S. Supreme Court-mandated end to Affirmative Action -- had failed to spark much interest.
"I thought it would be burning up our page. But you know what, it really isn't," she said after co-anchor Eagar had moderated an interesting in-studio discussion with two Dallas attorneys on the future of Affirmative Action.
Perhaps the subject was too pithy for the station's social media "community." But Tinsley quickly perked up to note that "Nomophobia" had struck a responsive Facebook chord. Or as she later put it in her second "Your Turn" dollop, "Everybody blew up our Fox4 news page on Facebook." Which meant "more than 100 people," she later noted.
Near the end of the newscast, viewers got a glimpse of "Me-Ality," a new shopping center device in which customers are measured for their exact sizes in something resembling the full-body scanner that some airport travelers complain about.
Then came the climactic "Viewers Voice" segment, during which Eagar regularly can get more than a little snarky -- like Uncle Barky -- with accusatory viewers. He did so during Monday's installment. But not on Tuesday, when Eagar said, "Finally, an email I can completely agree with."
Here it is: "Who told Steve Eagar he was funny? Someone needs to put him in his place. In short he is an a**. What a fool he is. Just remember Steve, the meek will inherit the earth. And you pompous jerks will be left with nothing."
The missive was from Roger of Royce City. And Eagar reveled in it. "Other than wondering whether this is Roger being meek, I'm on board with everything this dude says," Eagar replied -- with aplomb.
We'll close out this latest "Night in the Lives" journey with palate-refreshing examples of some good reporting Tuesday night on WFAA8 and CBS11:
***
WFAA8's
Jim Douglas
followed up at length on a North Texas family's dogged efforts to have the body of Air Force Major Troy Gilbert returned home for burial. The Texas Tech grad was killed in 2006 during the Iraq war. But the military said it had ceased any searches for his remains after the U.S. withdrawal, contending they previously had recovered a small bit of identifiable tissue from his plane's cockpit.
But Gilbert, who posthumously was awarded the Distinguished Flying Cross with Valor, subsequently had his body exhumed and displayed in a grisly insurgent propaganda video. So his family knew his body remained intact. After seeing the original WFAA8 story, the Secretary of the Air Force intervened and said that a new "pro-active" search would be made for Gilbert's body.
***
One of CBS11's better new reporters,
Jason Allen
, had a good piece on the impact of an epidemic of cattle rustling in Texas. Ranchers are not optimistic about being able to stop it, and higher food prices are one of the ripple effects, Allen said.
***
All four stations reported on new beefed-up DART security measures announced Tuesday. But only WFAA8's
Steve Stoler
followed up by attending a hearing of angry bus drivers who feel their safety is being over-looked. Several said they were issued police citations after defending themselves against violent passengers.
***
WFAA8's
Craig Civale
reported on early evening newscasts about the suspension of Highland Park basketball star David Allen after his arrest on charges of driving while intoxicated and also fleeing after hitting a parked car.
Civale interviewed Allen's mother, Melissa, who defended him. CBS11's
Jay Gormley
had a better followup story on his station's 10 p.m. newscast, though. He went to that night's Highland Park playoff game to interview both a contrite David Allen and his father. WFAA8 also might want to check its printed website version of the story. Civale corrected named Allen in his on-air piece. But in the wfaa.com text, he is called Matthew Allen.
***
WFAA8's
Brad Watson
was the only D-FW television reporter who went to Austin to interview Texas Gov. Rick Perry about his future intentions. He got the governor to admit that his defense of in-state tuition for illegal immigrants -- and his telling naysayers they "didn't have a heart" -- turned out to be a "huge error" on his part during the presidential campaign. "That was my bad," he told Watson, who was seated next to his Sunday morning
Inside Politics
partner Gromer Jeffers of
The Dallas Morning News
.
WFAA8's story oddly acted as though the clearly visible Jeffers wasn't there, never identifying him during Watson's piece. And in a rather bizarre turn of events, CBS11's Tuesday 10 p.m. newscast cited a
Dallas Morning News
story (by Christy Hoppe) that said Perry was "leaning toward" running for governor an unprecedented fourth time.
Watson tried several times, but couldn't get Perry to budge on his future intentions. Again running for governor is an "option," Perry said, but "I'm not gonna get in that handicappin' business."
***
Finally, CBS11's
Tracy Kornet
imparted some useful information during her "Champagne Hair Styles on a Beer Budget" segment. Homemade shampoos and conditioners, using natural ingredients that were specified in the report, can be both cheaper and better for you, Kornet said. The info. was drawn from interviews with seemingly knowledgeable hair people.
Kornet, who still anchors CBS11's 4 p.m. newscasts, is trying to make the best of her situation after the prime-time newscasts on sister station TXA21 were canceled. She was a charter anchor in that venue. And while some of her lifestyles/consumer reports can be a little cringe-worthy, this one definitely wasn't.