10/28/10 10:23 PM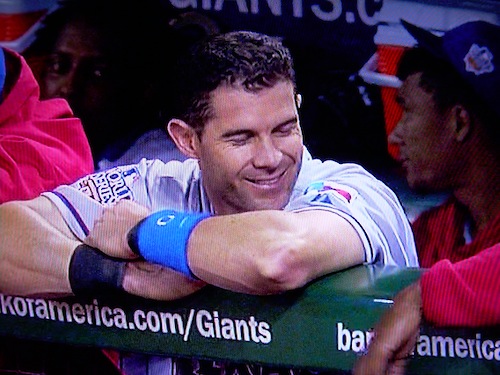 Why is this man laughing? "Face of the franchise" Michael Young, who's done nothing so far, somehow found humor in the 9th inning of the Rangers' 9-0 loss to the Giants Thursday. Photo: Ed Bark
By ED BARK
It's not over.
But that may be another way of saying that Texas Rangers' fans are living in a dream world if they think the San Francisco Giants are going to fall apart after treating the North Texas 9 like pinatas in the first two games of the World Series.
The Rangers saved their most embarrassing performance of the season for Game 2, losing 9-0 after yielding seven runs to the Giants in the eighth inning.
Relief pitchers couldn't find the plate in a cafeteria, walking four straight batters before the Giants again began spraying line drives all over AT&T Park.
Rangers hitters earlier failed time and again in the clutch, hitting a succession of pop flies and popups to waste what had been a very good start by pitcher C.J. Wilson.
The "resilient" Rangers are in disarray at the moment, with the bullpen a bad joke and their two best starters sustaining back-to-back losses. A blister on one of Wilson's pitching fingers only makes matters worse as the Rangers head to Arlington for three games that they realistically have to sweep to have any chance of making this a competitive World Series instead of the Giants' grown men playing against the Rangers' T-ballers.
The Rangers got away from "small ball" in Game 2, often swinging at bad pitches with home run cuts that ended up in outfielders' or infielders' gloves. They wound up being thoroughly disgraced on a national stage while the so-called "misfit" Giants took advantage of nearly every opportunity.
Imagine an eighth inning in which the first two Giants' hitters are retired before they score seven runs against four Rangers relievers. Derek Holland may be the most damaged. Envisioned as a possible replacement starter for the increasingly inept Tommy "Big Game" Hunter, Holland walked three straight batters on just 13 pitches before manager Ron Washington yanked him and brought in the ridiculous Mark Lowe. Further carnage ensued while Giants fans whooped it up.
It got so pathetic that you almost wished the Giants would keep scoring and scoring and scoring. Why not? The Rangers didn't seem to mind.
This may seem more than a little harsh. Still, it's one thing to lose close games in the enemy's ballpark. That's understandable. But the "loose" Rangers suddenly are playing like the punching bag teams of old. Maybe they've just hit the wall after upsetting both the Tampa Bay Rays and the New York Yankees. But you've got to at least put up a fight in the World Freakin' Series.
One more thing. Maybe D-FW's news anchors and reporters -- whether at home or in San Francisco -- can take off their cheerleader skirts and play a little hardball with this team. So far only the sports anchors have been able to at least slightly curb their enthusiasm and bring a little perspective to the table.
Boosterism is understandable in measured doses. But the uniformly giddy and incessant coverage on all four major TV news providers has gotten way out of hand. No one ever seems to know when enough is enough. The bandwagon-jumping has been off the charts.
OK, OK, maybe the Rangers can do a complete U-turn in front of the home fans. That would be great. If not, let's at least lose without looking like chumps. This has been a magical season, and maybe by some miracle it can still end in a World Series championship for Texas. For now, though, every Rangers player on the plane flight home should forget about being loose. It's time to gird the loins, get pissed off and from now on breathe fire for Game 3 and however long this Series lasts.
No more messin' around. Another loss like Thursday night's will have those Claw and Antler T-shirts selling 3 for $10 at Big Lots.