09/30/10 10:12 AM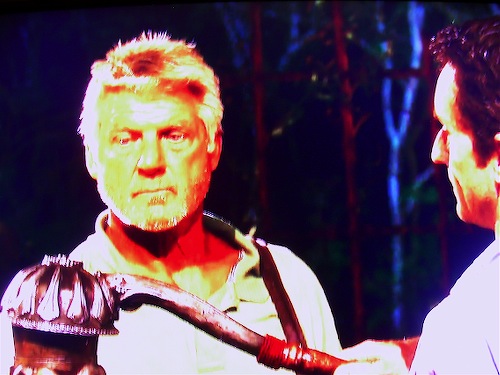 Jimmy gets his torch snuffed on Survivor: Nicaragua. Photo: Ed Bark
By ED BARK
CBS swept the prime-time total viewer ratings in D-FW Wednesday, capped by a notably strong showing from the second episode of
The Defenders
.
In a considerable upset, the second episode of the Jim Belushi legal drama outdrew the premiere of NBC's
Law & Order: Los Angeles
during the 9 p.m. hour.
Defenders
had 290,879 total viewers while the second place
LOLA
had 228,548.
Defenders
also beat
LOLA
among advertiser-coveted 18-to-49-year-olds. The second episode of ABC's competing
The Whole Truth
finished third in total viewers and fell to fourth with 18-to-49-year-olds behind Fox4's 9 p.m. local newscast.
CBS led off the night with Jimmy Johnson's eviction on
Survivor: Nicaragua
. He probably erred by tabbing himself as one of his tribe's weakest members during the weekly Tribal Council. They responded by unanimously voting him off, making JJ the show's third evictee in a field of 20.
Survivor
won the 7 p.m. slot in total viewers, edging Fox's
Hell's Kitchen
. But
HK
was a runaway winner with 18-to-49-year-olds. NBC's second episode of
Undercovers
beat only ABC's new
Better With You
in total viewers. It then fell to a distant fifth among 18-to-49-year-olds, with The CW's
America's Next Top Model
sliding into fourth.
CBS'
Criminal Minds
controlled the 8 p.m. hour in total viewers. It again was a different story with 18-to-49-year-olds, though. ABC's comedy combo of
Modern Family
and
Cougar Town
ran a resounding first in that key demographic, with the second hour of
HK
tying
Criminal Minds
for second.
In Wednesday's local news derby results, CBS11 won at 10 p.m. in total viewers and tied Fox4 for first among 25-to-54-year-olds, the main advertiser target audience for news programming on most stations.
WFAA8 continued to perform better in the early morning, tying Fox4 for the top spot in total viewers and running second with 25-to-54-year-olds. Fox4 took the 25-to-54 gold and also crunched the three network morning programs with the 7 to 9 a.m. portion of its
Good Day
. A lately slumping NBC5 ran third at 6 a.m. in both ratings measurements while CBS11 again was out of the picture.
CBS ran first at 6 p.m. in total viewers, but the other early evening news competitions were won by Fox4. It edged CBS11 at 6 p.m. with 25-to-54-year-olds and ran the table at 5 p.m.
Also of note: The
CBS Evening News
with Katie Couric is no longer a doormat in D-FW. Its numbers have notably improved since Diane Sawyer began anchoring ABC's
World News
. In Wednesday's Nielsens,
Evening News
tied the
NBC Nightly News
for first in total viewers and shared the 25-to-54 gold with Fox4's 5:30 p.m. local newscast.