Dan Rather to speak -- er, make that "unspeak" -- at Sixth Floor Museum Nov. 22 (updated)
11/20/08 03:35 PM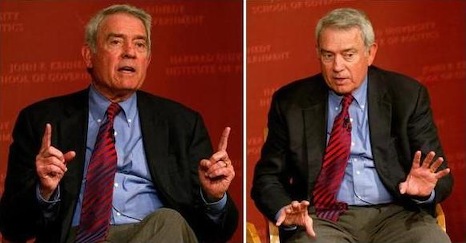 By ED BARK
Single bullet theory, anybody?
Dan Rather's announced Nov. 22nd presentation in Dallas at The Sixth Floor Museum has been canceled just two days before it was supposed to happen.
Museum spokesperson Christina Carneal says the reason given by Rather's office is that "he has been called out of town."
Colette Carey, spokesperson for Rather and his weekly
Dan Rather Reports
on HDNet, later confirmed that Rather "is on assignment for his program." Which means that the Sixth Floor Museum's planned program suddenly is history.
Rather's coverage of John F. Kennedy's assassination in Dallas greatly accelerated his career at CBS News, where he eventually became chief White House correspondent and succeeded Walter Cronkite in 1981 as anchor of
The CBS Evening News
. In the end, that didn't turn out so well.
His speech in Dallas, scheduled at 8 p.m. Saturday, was to have capped a series of free public programs titled
Impressions of Jack Kennedy
. Saturday will be the 45th anniversary of the assassination.