NBC's Sunday Night Football again skims cream of Cowboys schedule
04/21/10 10:59 AM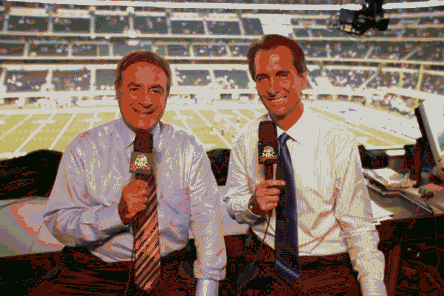 Sunday Night Football's Al Michaels & Cris Collinsworth. NBC photo
By ED BARK
It's a mixed blessing, the curse of being a marquee winning team rather than a high-profile loser.
Fox4 and the Fox network in general can always count on big ratings for the Dallas Cowboys. But they just can't count on as many games, as this year's
just-released TV schedule
again shows.
Fox and D-FW's Fox4 again will get nine of the Cowboys' 16 regular season games. That's the same slice as
last year,
but consider what might have been if NBC's
Sunday Night Football
, the NFL Network or ESPN weren't in the picture. Five prime NFC games, which otherwise would have been Fox's property, instead will go to those networks, with CBS again getting its usual allotment of the two games in which AFC teams visit Jerry's Palace.
Sunday Night Football
flexes first, opening shop with the Cowboy's Sept. 12th visit to Washington. Barring injury, that will be the regular season debut of Donovan McNabb as the Redskins' QB. Last season,
Sunday Night Football
also cherry-picked the Cowboys' regular season unveiling of Jerry's Palace, with the New York Giants spoiling the party with a last-second win.
Sunday Night Football
also has Dallas' Nov. 7th game at Green Bay and the Cowboys' Dec. 12th home game against Philadelphia. ESPN's
Monday Night Football
gets the Oct. 25th home encounter with the Giants and the NFL Network potentially will score big with what could be a key late season Christmas night visit to Arizona.
Fox and Fox4 get four consecutive Cowboys games from Nov. 14th to Dec. 5th. The marquee contest in that grouping is the Thanksgiving Day matchup against the Super Bowl champion New Orleans Saints. The Dec. 5th game is on the road against the other Super Bowl combatant, the Indianapolis Colts.
Should Dallas get that far, Fox will be home to all of the team's post-season games. The network also has next year's Super Bowl, the first ever played in Dallas.
During the regular season, though, immense ratings and profits are lost every time a network other than Fox gets a Cowboys game against an NFC opponent. And in that arena, it's going to be same-old, same-old in the 2010 season.