Local Nielsen ratings snapshot (Wed., April 15) -- runaway prime-time sweep for Fox and Fox4
04/16/09 11:34 AM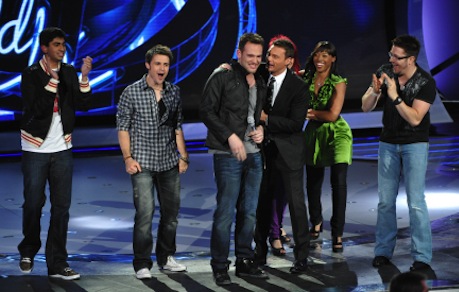 Matt Giraud collects a "Save" on Wednesday's Idol. Fox photo
By ED BARK
American Idol
regrouped from Tuesday night's ratings tie with a competing
NCIS
repeat to amass one of its biggest D-FW audiences of the year for Wednesday's results show.
A total of 478,296 viewers watched Matt Giraud get the heave-ho from voters before the show's four judges opted to "save" him while being egged on by the studio audience. It's the only time they'll be allowed to reprieve a contestant under a new rule put in place for Season 8. But two contestants will be counted out next Wednesday, reducing the field from seven to five.
Idol
's 7 p.m. warmup act, a new episode of Fox's
Bones
, also dominated its time slot with 285,649 viewers. Fox4's 9 p.m. local newscast then made it a clean sweep with a post-
Idol
292,292 viewers.
All three shows also ranked No. 1 among advertiser-coveted 18-to-49-year-olds, with no competing program even close.
ABC's tandem of
Lost
and
The Unusuals
ran third from 8 to 10 p.m. in total viewers, behind a repeat of CBS'
Criminal Minds
and a new episode of the network's
CSI: NY
.
Lost
inched up to second place among 18-to-49-year-olds, but had well less than half the 8 p.m. haul of
Idol
.
In pro sports returns, the Dallas Mavericks' gritty win over Houston in the regular season finale averaged 119,574 total viewers on TXA21 and added an extra 39,858 for the ESPN telecast. Over on Fox Sports Southwest, the Texas Rangers' elongated 19-6 clubbing of Baltimore drew 66,430 viewers.
In local news derby results, WFAA8 took the 10 p.m. gold in total viewers while tying with Fox4 for first place among 25-to-54-year-olds, the main advertiser target audience for news programming.
NBC5 ran the table at 6 a.m., with WFAA8 doing likewise at 6 p.m.
The 5 p.m. spoils were split between WFAA8, which won in total viewers, and Fox4, tops among 25-to-54-year-olds.
Also of note: A prime-time edition of WFAA8's homegrown
Good Morning Texas
drew 46,501 total viewers from 7 to 8 p.m. That put it sixth in that hour behind Fox, NBC, CBS, the Mavs-Rockets game and The CW's
America's Next Top Model
.