Local Nielsen ratings snapshot (Mon., April 5) -- Dancing outdraws last performance of "Big Dance"
04/06/10 11:13 AM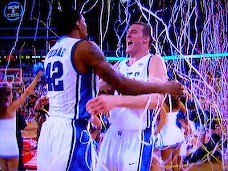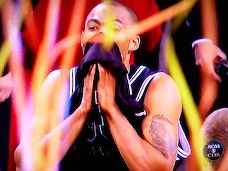 There are two sides to every NCAA championship. Photos: Ed Bark
By ED BARK
ABC's weekly floor show averaged more viewers than CBS' hardwood extravaganza Monday night, offering further proof that D-FW is anything but a basketball mecca.
The latest two-hour
Dancing with the Stars
drew 468,255 viewers, with a peak audience of 529,331 between 8:30 and 8:45 p.m. The down-to-the-last-buzzer NCAA basketball championship thriller between Duke and Butler pulled in 400,392 viewers, peaking at 556,477 between 10:30 and 10:45 p.m.
Dancing
also called the tune among advertiser-favored 18-to-49-year-olds, although it was considerably closer in that demographic. Men of that age group of course rallied to basketball while women skirted it. Here's the breakdown:
18-to-49-year-old men
Basketball -- 123,203
Dancing -- 63,266
18-to-49-year-old women
Basketball -- 62,271
Dancing
-- 134,123
A new episode of ABC's growingly popular
Castle
had 346,101 total viewers in the 9 p.m. hour, nearly beating basketball (393,605 viewers) during those 60 minutes.
On another big sports front, the Texas Rangers' afternoon season opener against Toronto (which ended with a 9th inning 5-4 home team win) drew a comparatively scant 67,863 total viewers on Fox Sports Southwest. Local ratings were not available for the ESPN News channel, which carried Tiger Woods' 1 p.m. press conference while big daddies ESPN and ESPN2 had commitments to baseball games.
Much earlier in the day, the opening 4:30 to 5 a.m. a.m. portion of Fox4's newly expanded
Good Day
had 27,145 viewers to tie NBC's
Early Today
in that time slot. But
Good Day
led the way among 25-to-54-year-olds, the main advertiser target audience for news programming. In both measurements, the 4:30 to 5 a.m.
Good Day
drew more viewers than TXA21's "First in Prime" 7 to 9 p.m. newscast. It also beat CW33's 9 p.m. local newscast.
Good Day
then carried this jump start to twin wins at 5 a.m. and more importantly, a double-header sweep over NBC5 at 6 a.m., where the Peacock hadn't been beaten by anyone since March 16th. Fox4's brain trust is smiling today while competitors wonder whether they, too, might have to rev up their morning engines a half-hour earlier. But as they say, it's still early.
WFAA8 stepped into the 10 p.m. winners' circles with a sweep of a downsized newscast field, although the last stages of basketball had far more viewers on CBS.
WFAA8 also took both golds at 5 p.m. and won at 6 p.m. among 25-to-54-year-olds. WFAA8 and CBS11 tied for the most viewers at 6 p.m.