Idol: Double panning for North Tex two
04/21/10 08:50 AM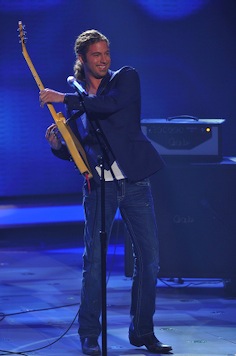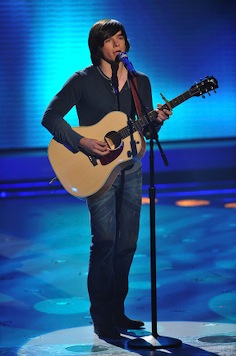 Casey James and Tim Urban on Tuesday's Idol. Fox photos
By ED BARK
Fort Worth's Casey James and Duncanville's Tim Urban both emerged bruised but still bemused after their performances on Tuesday's
American Idol
.
The double lashing from judges was a first for the North Texas duo. But they're still among the show's seven finalists, so we'll continue our weekly summations until one of them is counted out. Following are excerpts from actual judges' comments followed by Uncle Barky's refreshing sorbets.
CASEY JAMES, 27, FORT WORTH
Song: "Don't Stop" by Fleetwood Mac
Randy Jackson
-- "It was a good performance. It wasn't your best performance, 'cause I feel like every week we kind of see the same thing now from you . . . Just lookin' for something a little more special."
Ellen DeGeneres
-- "Great guitar playing . . . You're consistently good, but I don't think anyone's going to be talking about that tomorrow. I think you have to be great right now. And it wasn't great."
Kara DioGuardi
-- (Discombobulated as usual) "You come out out tonight, and it's like jam band. It's like 'Watch me, I can play, I'm this, the crowd's going.' But that's not showing us what makes you different. You made yourself like everyone else tonight."
Simon Cowell
-- "That wasn't particularly inspiring. Zero emotion . . . I actually thought it was a lazy song choice."
Uncle Barky
-- "More to the point it was a lame choice of a song that became muzak when Bill Clinton adopted it as his '92 campaign theme song. You had a few moments with it, but even DioGuardi was right in first mentioning your earlier performance of John Lennon's "Jealous Guy" as your best and most emotional effort by far. That was two weeks ago, so you've gotta step it up. As Tuesday night's leadoff hitter, you may be headed toward your first appearance in the Bottom Three -- or Two. You don't deserve to sink that low, but lately you've lost some momentum."
TIM URBAN, 20, DUNCANVILLE
Song: "Better Days" by Goo Goo Dolls
Randy
-- "It was just kind of like OK good karaoke for me. You didn't do anything with it. It just laid there."
Ellen
-- "Tim, you're like for me the soup of the day. Sometimes I like the soup and sometimes I don't like the soup . . . Today I didn't like the soup."
Kara
-- "Tim, you know, you've finally found your lane. You're in it. But it's kind of a new Tim from what we were used to. And I think this is where you belong, but it wasn't the best execution. But you've still got something, and at times sound very commercial."
Simon
-- "I think, Tim, if this had been the very, very first time we'd seen you, I think we'd be quite impressed . . . This may have been a step too high for you this week in terms of actually believing in the performance. Having said that, you have improved over the weeks. But it was a little bit of a letdown."
Uncle Barky
-- "I kinda liked it. Not much more to say. You clearly lack a powerhouse voice, but your likeability factor is still off the charts. As noted before, those cuddly/killer looks are perfectly suited to
Glee
. And if that ends up being your consolation prize, then you've probably won it all."