Local Nielsen ratings snapshot (Tues., June 30) -- Rangers/Angels outdraw three of four 10 p.m. newscasts
07/01/09 12:15 PM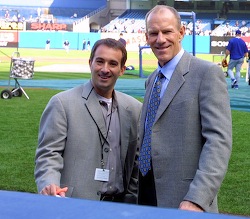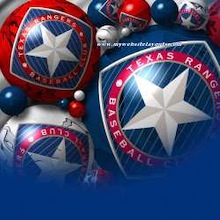 Announcers Josh Lewin, Tom Grieve are getting more exposure.
.
By ED BARK
The Texas Rangers capped an otherwise dismal June with a crucial home win over the Angels Tuesday night.
Fox Sports Southwest's telecast averaged a nice-sized and symmetrical 146,146 D-FW viewers, with 159,432 watching the closing half-hour opposite local 10 p.m. newscasts. That was good enough to outscore everyone except WFAA8, which had 225,862 viewers in marking the heralded return of sports anchor Dale Hansen after a month's vacation.
On a decidedly lesser sports front, the second episode of ABC's
The Superstars
drew 86,359 viewers from 7 to 8:30, less than half the crowd for CBS' competing repeats of
NCIS
(212,576 viewers) and
The Mentalist
(186,004 viewers). Because of an injury to former tennis star Jennifer Capriati, the
evicted marquee duo of
Terrell Owens and model Joanna Krupa returned to brag again. They survived this time, in large part because an opening "Sand Dash" competition just happened to be tailor made for Owens' speed.
NBC's
America's Got Talent
again led all prime-time programming with 225,862 viewers in the 8 p.m. hour. But CBS' 9 p.m. edition of
48 Hrs. Mystery
, subtitled "Michael Jackson: Picking Up the Pieces," attracted the most advertiser-coveted 18-to-49-year-olds (90,754).
In other local news derby results, WFAA8 also overcame a skimpy lead-in from ABC's disagreeable
Prime Time: Family Secrets
to top the 10 p.m field among 25-to-54-year-olds, the main advertiser target audience for news programming.
NBC5 again countered with twin wins at 6 a.m. and also ran the table at 5 p.m.
The 6 p.m. golds were split between WFAA8 in total viewers and NBC5 among 25-to-54-year-olds. It was feast or famine for WFAA8, which dropped to fourth place with 25-to-54-year-olds.