Idol: North Texan laddies lashed hard by Simon
03/24/10 08:11 AM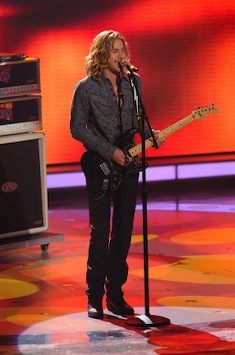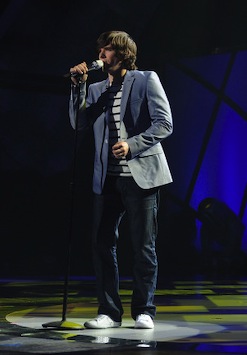 Casey James and Tim Urban warbling on Tuesday's Idol. Fox photos
By ED BARK
Duncanville's Tim Urban sustained more would-be lethal blows to his cute mug Tuesday night while Fort Worth's Casey James pretty much pleased everyone except -- drum roll -- judge Simon Cowell.
Until Wednesday's weekly vote-off, both North Texans are still standing amid
American Idol
's last 11 competitors. And the final 10 get to go on the show's annual moneymaking concert tour this summer.
Once again, here are excerpts from judges' actual comments, followed by Uncle Barky's palate-cleansing sorbets.
TIM URBAN, 20, DUNCANVILLE
Song: "Crazy Little Thing Called Love" by Queen
Randy Jackson
-- "The 'dopest' thing that you did was the slide, dude. The vocals were so bo-r-r-r-ing."
Ellen DeGeneres
-- "It felt like to me it was an audition for
High School Musical
. . . It was corny. It was pushed too hard. I just didn't get it."
Kara DioGuardi
-- "It was Zac Efron in
Hairspray
. I don't know what. And little girls will love that . . . Grabbing at the audience like this, you're not at that place yet. You're not established. You haven't sold hundreds of millions of records. So you acted like you were (sic) already made it. And you haven't. You have a lot of work to do."
Simon Cowell
-- "I don't think the sliding around was the problem. Because I think it distracted from the song. So I kind of understand why you did that. (big horse laugh from Randy). The problem was is (sic) that it was completely and utterly pointless and silly . . . You've got zero chance of winning right now."
Uncle Barky
-- "The only review that probably mattered was the girl yelling 'I love you, Tim' while Kara shredded you. You're lucky that at least three competitors were even worse -- Andrew Garcia, Didi Benami and Paige Miles. And they can't compete with you in the cuddly wuddly looks department. I also have the feeling that the judges -- Simon in particular -- might be inadvertently positioning you as the next Sanjaya. The sympathy/sabotage vote in your favor could be formidable for weeks to come. And you definitely look the part of an Idol, which in your case is still trumping those substandard vocals. Taking punishment well is another attribute of yours. So I wouldn't unduly fret about making the Top 10. The
Idol
maestros definitely want you on that tour. Gotta have someone who makes the girls shriek and melt."
CASEY JAMES, 27, FORT WORTH
Song: "The power of Love" by Huey Lewis & The News
Randy
-- "I wasn't a fan of the song choice . . . But you definitely did it well. I believed it."
Ellen
-- "I think it was the best vocal of the night. I thought you sounded great."
Kara
-- "You're just on another level . . . You're just ready to make an album. You're just there. It's all there. Everything. And it just keeps getting better and better and better. You're in a zone now. Stay in it."
Simon
-- "I don't know what you're listening to, Kara. I genuinely don't. Because that song was old-fashioned 25 years ago when it came out. He didn't make it current . . . It was like watching and listening to an '80s cover band. There was no effort, no originality. Nothing different. Maybe it's just me."
Uncle Barky
-- Gotta side with Simon here. I've never liked the song and I don't think you brought much to it. It'd be nice to see you without the guitar for a change, too. You're almost certainly a long distance runner and a strong candidate for the Final Four. But let that voice loose and then wail with it. This show desperately needs a Daughtry-like rocker with a gravelly edge. And you're the only possibility because big-voiced Lee Dewyze is basically Danny Gokey revisited."