Local Nielsen ratings snapshot (Mon., July 21)
07/22/08 09:54 AM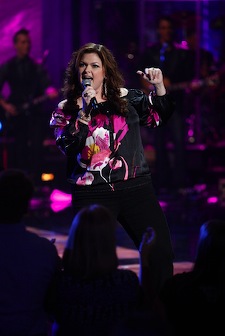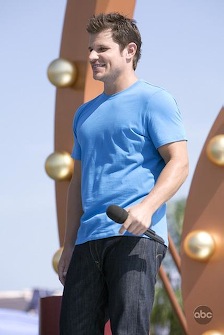 Arlington's Melissa Lawson and Musical's Nick Lachey
By ED BARK
ABC's all-new Monday night reality lineup, particularly the new
High School Musical: Get In the Picture
, continued to scrape bottom while CBS and Fox set the pace with drama and comedy repeats.
Meanwhile, Arlington's Melissa Lawson entered the realm of
Nashville Star
's Final Four as the competition's ratings perked up a bit in these parts.
HSM: GITP
, hosted by Nick Lachey, drew prime-time's smallest audience among the Big Four networks in both total homes and with advertiser-favored 18-to-49-year-olds. It just goes to show that a hit movie franchise can't be cheapened to the point where the "winner" merely gets to appear in a closing credits music video after
High School Musical 3: Senior Year
, scheduled to open in theaters on Oct. 24th.
NBC's
Nashville Star
(114,473 D-FW homes) drew a bit more than twice the overall audience for
HSM: GITP
while still finishing just third at 8 p.m. in both total homes and among 18-to-49-year-olds.
CBS owned the night in both measurements from 8 to 10 p.m. with reruns of
Two and a Half Men
(158,314 homes);
Old Christine
(153,443 homes) and prime-time's top vote-getter,
CSI: Miami
(187,541 home).
Fox's
Bones
reprise won at 7 p.m. in total homes but dipped to third among 18-to-49-year-olds, where CBS' do-overs of
The Big Bang Theory
and
How I Met Your Mother
were tops.
The Texas Rangers' road win over the White Sox had a respectable haul of 85,246 homes on MY27. Over in the cable world, TNT's firstrun combo of
The Closer
and
Saving Grace
held steady with 80,375 homes apiece.
The local news ratings had something for everybody, particularly CBS11 and NBC5.
CBS11 took a pair of firsts at 10 p.m., winning in total homes (172,928) and with 25-to-54-year-olds, the principal advertiser target audience for news programming.
The Peacock won a doubleheader at 6 a.m., with a particularly strong showing in the key 25-to-54 demo.
WFAA8 cruised to another pair of wins at 6 p.m., stretching its streak to an imposing 21 straight weekdays.
Fox4 got on the board with a total homes win at 5 p.m., but WFAA8 took the top spot among 25-to-54-year-olds.