Idol: No Tex hex for Lone Star foursome
03/11/10 06:17 AM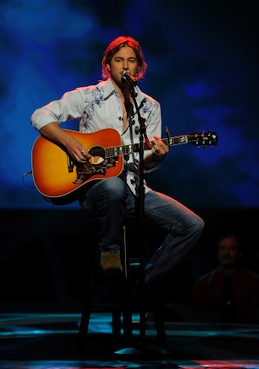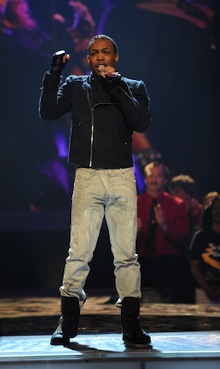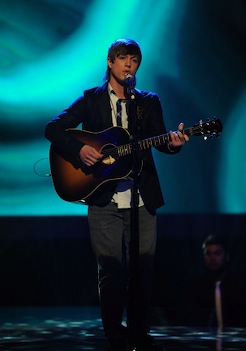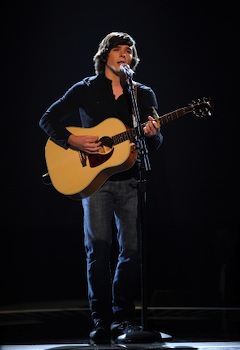 Clockwise from bottom left: North Texans Alex Lambert, Casey James, Todrick Hall and Tim Urban perform on Wednesday's American Idol. Vote-offs resume on Thursday. Fox photos
By ED BARK
American Idol
's four North Texas males, composing half the remaining field, received uniformly good reviews Wednesday, marking a first for Todrick Hall in particular.
Judge Simon Cowell as usual had his quibbles amid all the cooing. Just keepin' it real.
Here's our third edition of actual excerpts from judges' comments, followed by Uncle Barky's palate-cleansers. They're presented in order of Wednesday's appearances.
ALEX LAMBERT, 19, NORTH RICHLAND HILLS
Song: "Trouble" by Ray Lamontagne
Randy Jackson
-- "I think it was a good song choice for you. I liked it."
Ellen DeGeneres
-- "You're becoming a mushy banana, is what's happening to you. You are ripening so fast . . . Every single week you get better and better and better. You need more confidence, but don't get cocky. Don't become a cocky banana. No one likes that."
Kara DioGuardi
-- "The only thing standing in the way of you winning is you right now . . . But you are still stiff and you're not in it and you're not letting go up there."
Simon Cowell
-- "You are
so
still concentrating on trying to deliver the performance. We've never ever seen you relax or having a good time. You've kind of got to imagine Randy in a bikini or something . . . Let yourself go."
Uncle Barky
-- "Randy in a bikini might be a bit over-baring. Instead envision Simon in a grass skirt at a luau. Unlike other contestants, though, you're still peaking. The voice is really starting to stand out. Looking semi-petrified won't cut it in the long run. But Ellen's right. It's getting better all the time."
TIM URBAN, 20, DUNCANVILLE
Song: Tim Buckley's version of "Hallelujah"
Randy
-- "You walked in some pretty big shoes and I thought you did a pretty good job."
Ellen
-- "That was fantastic!" (after running to the stage to hug him).
Kara
--- "I thought you were going to be going home a few weeks ago. And now I actually think you're kind of in it, and you may just about be in the top of the boys right now."
Simon
-- "I kind of feel responsible for you doing well tonight after what I said (in recent weeks). Because I gave you a confidence boost and you needed it. . . . It's not the best version I've ever heard. But for you, it was terrific."
Uncle Barky
-- "You pulled a Jason Castro -- and to pretty good effect. The Rockwall kid did Leonard Cohen's version of 'Hallelujah' two seasons ago, with even Simon melting like buttah. Castro and his li'l ukulele made it all the way to the Final Four. Your Zac Efron/mag cover looks alone could be enough to carry you to this season's Top Ten. But with the voice kicking in, there's a chance you might go even farther."
CASEY JAMES, 27, FORT WORTH
Song: "You'll Think of Me" by Keith Urban
Randy
-- "I think it was a little bit of a safe choice for me."
Ellen
-- "I thought it was great . . . You're more comfortable sitting on a stool and playing guitar, and that feels like your vibe to me."
Kara
-- "I'm kinda back on the Casey train . . . I'm missing that spark. I want to see a little bit more from you. But it's definitely a move in the right direction."
Simon
-- "I would say it was your second best . . . I think it made you sincere. I don't think it's going to be something we're going to be remembering or raving about in 24 hours time as a performance. But you sounded great, I have to say."
Uncle Barky
-- "You're savvily milkin' that country vein again after whippin' out an electric guitar last week and heavy metal-ing your voice into background noise. In the end, I see some of the kids blowin' by you, old-timer. You've got presence, though, with age and experience still on your side for at least several weeks to come."
TODRICK HALL, 24, ARLINGTON
Song: "Somebody to Love" by Queen
Randy
-- "Todrick is back! What you did just there is you proved that you can really sing. That's why you're here. That was one of the best vocals I heard all night, all the last couple of weeks."
Ellen
-- "You are a brave, brave young man . . . It was almost -- it sounded like a gospel song. I thought it actually worked like that."
Kara
-- "You can't listen to that and say it wasn't good singing. It was really good singing. There were moments, though, when I didn't know whether to laugh at it or love it. 'Cause it was so dramatic. It was almost like 'Godspell' a little bit. And I don't know that that's bad or good."
Simon
-- "I would say it was good in parts, not the whole way, though. Look, I think what you've done tonight is tell us who you are. You're a Broadway singer. That is 'American Idol: the Musical' doing Queen. Having said that, at least you made an attempt to perform. It was a good song choice, and it may have saved you."
Uncle Barky
-- "I've been your biggest fan, throughout, Todrick, to coin a puke-worthy cliche. What I see in you is Al Jarreau meeting Lou Rawls, to date myself. You're easily the best song stylist of this bunch, making everything you do a uniquely singular event amid a lotta sound-alike performances. Keep rollin' it your way. It may not get you all the way to the promised land. But I think your knack for improvisation will really shine if you can make it to the 'Mentor' rounds. Then they'd all better watch out."