Idol: Judges again stick it to "Teflon Tim" while Casey keeps rollin' along
03/31/10 08:58 AM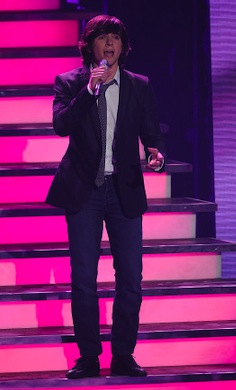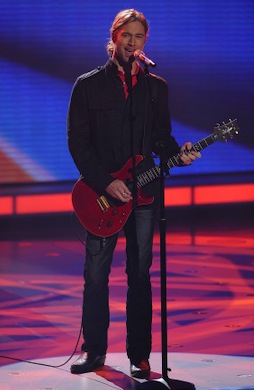 Duncanville's Tim Urban, Fort Worth's Casey James. Fox photos
By ED BARK
American Idol
's disparate North Texas duo -- Duncanville's Tim Urban and Forth Worth's Casey James -- again drew polar opposite reactions from judges on Tuesday's performance show.
Urban, whom some are calling "Teflon Tim," took another pan-frying but laughed and smiled through it all. James again impressed judges, particularly hard-to-please Simon Cowell.
Here's our weekly compendium of actual comments from judges followed by Uncle Barky's wizened benedictions.
CASEY JAMES, 27, FORT WORTH
Song: "Hold On, I'm Comin' " by Sam & Dave
Randy Jackson
-- "This was another hot night for you. You stayed in your element."
Ellen DeGeneres
-- "The thing about you is you're consistent. You're always good. You have a great voice, you have a great tone . . . It felt a little generic . . . You sang it great, but that's a safe zone for you."
Kara DioGuardi
-- "I think you have more range in you. I wanna see you go back, maybe, to an acoustic guitar and just sing. Show me everything you got. 'Cause I think you got more."
Simon Cowell
-- "It was your strongest week you've had so far. For me it showed a completely different side of you as an artist. I thought it sounded authentic . . . I'm really, really impressed with you this week."
Uncle Barky
-- "You looked great, had both a swagger and a smile, and made this song rock. It was the best vocal of the night, and the only danceable one. You're looking like a lock for the Final Four, and have the most long-term star potential of anyone in this rather lackluster Top 10. Hell, I can already see you at Jerry's Palace, doing the annual Thanksgiving Day gig either this year or next. You've got Carrie Underwood/Daughtry potential."
TIM URBAN, 20, DUNCANVILLE
Song: "Sweet Love" by Anita Baker
Randy
-- "Some plusses and minuses for me . . . When you first started, I feel like, you know, it's kind of got this singing waiter thing . . . It just felt so pedestrian and not like '
American Idol
searching for the next superstar, the best we can find.' The good plus part about it was at least you sang in tune . . . But there was no vibe to it, dude. It had no swag on it."
Ellen
-- "I heard there's a drinking game going on at home, every time I call you adorable. So I'm going to call you adorable right now because those people may never drink again . . . But man, I just kept going 'Why did you choose that song?' That is a tough song to sing . . . You were walkin' like you were sneakin' into a bedroom. So good for you for takin' that on. But oh boy, why?"
Kara
-- "It was like Broadway at times, Vegas at times . . . And you took the soul out of the song and you made yourself so uncommercial and young and current, which is why all these people love you. They see that in you. And I just don't understand why you keep doing this. Why are you laughing?"
Simon
-- "I'll tell you why he's laughing. Because I don't think it makes any difference whatsoever what we say . . . Completely inappropriate song. It's like a mouse picking a fight with an elephant. You're not gonna win. But it doesn't matter because you're gonna smile, the audience is gonna vote for you, nobody cares. You'll be here next week. So, well done."
Uncle Barky
-- "Maybe you're laughing because loopy Kara's discombobulated comments could have come directly from the now sorely missed Paula Abdul. In other words, they made no sense at all, but at least Abdul had staked out that territory and then branded herself a consummate ditz. Taking advice from Kara is akin to buying life insurance from Freddy Krueger.
"So pay no mind to any of 'em. Just keep smiling and striving to sing the best you can. Actually I thought this was your best vocal, all things considered. But Simon's got it right. The judges can shred you like a cheese grater, but your cuddly teen mag mug, winning personality and ability to take a punch are your aces in the hole. You're in the mold of a long list of dreamy teen idols, from Fabian and Bobby Sherman to David Cassidy and Zac Efron. None of 'em are exactly Caruso.
Idol
needs people like you to keep it interesting, particularly in this less than scintillating season. No wonder lame duck Simon took a punch at
Dancing with the Stars
. He can feel the show breathing down
Idol
's neck in the weekly Nielsen ratings.
"Getting a little windy here, but one more thing. You're almost certain to be in the Bottom Three again Wednesday night. But I think that weepy Didi Benami -- or maybe the previously invulnerable Siobhan Magnus -- will end up taking the gas. You'll always be on borrowed time, though, just like punch toy Sanjaya Malakar was in Season 6. He made it all the way to the final 7 before being voted off. That's likely about as far as you can go, so go for it. After all, it's only
American Idol
."