Banfield pledges allegiance
10/28/08 04:44 PM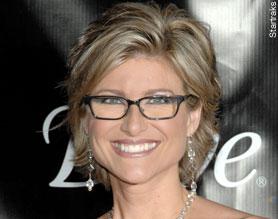 Ex-Fox4 anchor Ashleigh Banfield, now toiling for truTV (Formerly Court TV), happily recited some swear words Friday.
The native Canadian thereby became an official U.S. citizen. Or as Banfield put it to
The New York Post
's
Page Six column
, "Fourteen years after coming to America via Texas, where George W. Bush was my governor and then became my president, I will now get to vote."
Banfield, 40, was feted at her truTv workplace with red, white and blue cupcakes, and signs saying, "Banfield for President," Page Six reported. It also quoted her as saying, "Perhaps the 28th Amendment will allow naturalized citizens to be president one day, and Arnold (Schwarzenegger) will lead the way."
Banfield left Fox4 in 2000 after five years at the D-FW station, initially joining NBC/MSNBC. Her national profile peaked on Sept. 11, 2001, when she filed a series of live reports from ground zero. Banfield's trademark square-rimmed glasses remain firmly in place.
Ed Bark