Idol: Tables turned with "Turban" praised, Casey panned
04/14/10 09:28 AM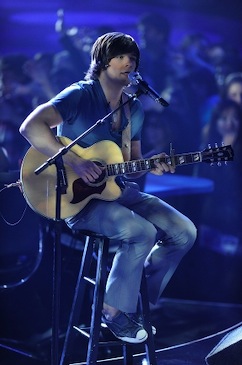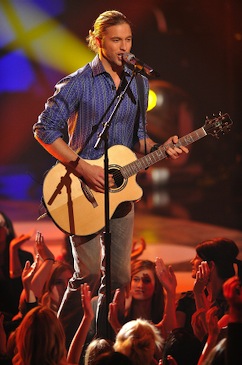 Tim Urban, Casey James on Tuesday's American Idol. Fox photos
By ED BARK
Shredded for weeks on end, Duncanville's Tim Urban now is basking in the relative good will of the judges while Fort Worth's much-praised Casey James hit some unaccustomed ruts Tuesday night.
Both are still among
American Idol
's nine finalists, with two being eliminated Wednesday night after last week's "save" of Michael Lynche. The most recent performance edition featured Elvis Presley songs, with last season's runnerup, Adam Lambert, serving as mentor. Urban, previously dubbed "Teflon Tim," was introduced as "Turban" Tuesday by host Ryan Seacrest.
While Urban and James are still standing, we'll continue our weekly compendiums of actual judges' comments climaxed by Uncle Barky's pungent closers. Here we go.
TIM URBAN, 20, DUNCANVILLE
Song: "Can't Help Falling In Love With You"
Randy Jackson
-- "This may surprise you, right? I actually liked it."
Ellen DeGeneres
-- "I thought that that was beautiful."
Kara DioGuardi
-- "Probably my favorite Tim performance ever."
Simon Cowell
-- "You have managed to go from zero to hero in two weeks."
Uncle Barky
-- "Allow me to do a little Simon Cowell-ickian backpatting here. Who was it that said you'd get at least to the Top 10 and stick around a lot longer than most people thought? UB, that's who. Your position is still tenuous, though, and I didn't like this week's performance as much as last week's "All My Lovin'." With Andrew Garcia an almost certain goner Wednesday night, you'll have to climb at least one more rung to get to the Top 7. Very, very few envisioned that, but it's definitely within reach."
CASEY JAMES, 27, FORT WORTH
Song: "Lawdy Miss Clawdy"
Randy
-- "I didn't see anything different,but it's another solid performance from you, man."
Ellen
-- "You look great. You look comfortable surrounded by a whole of sea of women over there. It wasn't as exciting as I would liked to have seen, but you're always good."
Kara
-- "We know what you're capable of. You have brilliance. And that really fell short for me."
Simon
"I'm going to call that one, bearing in mind this was Elvis, a wasted opportunity with a song which is completely forgettable. But your vocal was good."
Uncle Barky
-- "Simon nailed it. Melody-wise, this wasn't a 'Lawdy Miss Clawdy' I'm familiar with. Nice 'n' bluesy, but a complete lack of buildup and none of The King's familiar hooks. You don't have to worry about being sent home this week, but this was your flattest outing since viewer voting kicked in."