Lone Star? Only Fort Worth's Casey James passes judgment among Idol's four North Texas males
02/25/10 05:40 AM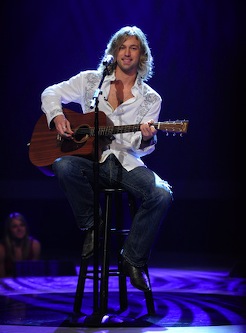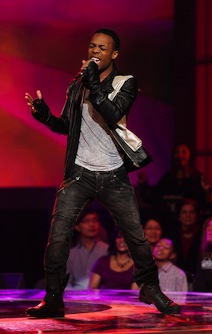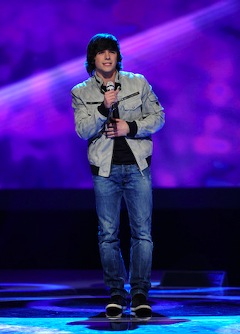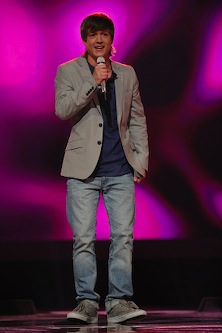 Clockwise from bottom left Wednesday night: Duncanville's Tim Urban, 20; Fort Worth's Casey James, 27; Arlington's Todrick Hall, 24; and North Richland Hills' Alex Lambert, 19. All photos from Fox
By ED BARK
It's tough being told you murdered a song -- as Todrick Hall was -- or that your only chance for survival is your cuteness -- as Tim Urban was.
Maybe it's even tougher performing under the weight of judge Kara DioGuardi's crush on you -- as Casey James did.
American Idol
's four North Texan males went live Wednesday night in an effort to please viewers in the end and the show's taste-making judges for starters. Three of them -- Hall, Urban and Alex Lambert -- emerged bloodied and bruised from the jabs thrown by heavyweight champ Simon Cowell and his mostly inconsequential mates.
James, dogged by the fluttering eyes of DioGuardi, emerged with the only vote of confidence during the Fox steamroller's two-hour dissection of the 12 male semi-finalists.
In order of appearance, here's how it went down. Excerpts are from actual judges' comments, in the order they appeared. Uncle Barky then adds his voice of reason.
TODRICK HALL, 24, ARLINGTON
Song: "Since U Been Gone" by Kelly Clarkson
Ellen DeGeneres:
"I love that you took the song and you did something different with it."
Randy Jackson:
"It didn't even sound like the same song . . . You never want to take a song and completely obliterate it."
Kara DioGuardi:
"It's undeniable that you are a performer . . . And you took a risk . . . You don't have to go that crazy."
Simon Cowell:
"I think you came over as a dancer trying to sing . . . What you did was completely murder the original song. So therefore I think it was verging on stupid."
Uncle Barky:
"It's true that your version too often unchained the melody. But you've got more improv skills in your baby toe nail than the rest of 'em combined. It's probably not coincidental that you drew the dreaded lead-off spot after being linked to a piddling little "scandal" by
The Huffington Post
. Maybe
Idol
wants to get rid of you. But you very much deserve to survive and probably will."
TIM URBAN, 20, DUNCANVILLE
Song: "Apologize" by One Republic
Simon:
"We absolutely made the right decision the first time around by not putting you through. (Urban was cut before contestant Chris Golightly got disqualified). You may make it through just based on the fact that people are gonna feel sorry for you and you look good. And if you do, you've really seriously got to get this together. Because that wasn't good enough."
Kara:
"You were just buried under the beat and the instrumentation, and you couldn't get out of it."
Randy:
"None of it really worked. It was just all wrong."
Ellen:
I think people will want to vote for you because you're adorable . . . But you've really gotta choose the right songs and step it up and not just count on the fact that you're adorable. Because you're adorable."
Uncle Barky:
"Cripes, it wasn't
that
bad. Nor was it that good. Your poor parents looked stricken when the cameras caught their reaction to the whipping you took. But several subsequent performers weren't any better. In fact they were worse. So take your cuddly Kris Allen looks to the bank if they advance you to the next round. Urban renewal is always a possibility if you get another chance to show you're more than just another
Bobby Sherman
. Who by the way sold millions of records."
ALEX LAMBERT, 19, NORTH RICHLAND HILLS
Song: "Wonderful World" by James Morrison
Simon:
"I don't know who was happier for that to end -- you or me. Because that was the most uncomfortable performance of the night."
Kara:
"I feel like he needs a hug . . . It's all there. It's just not completely together."
Randy:
"I like you, young man. I hope you stick around."
Ellen:
"I love bananas, and sometimes a banana is just not quite ripe . . . You just need to ripen."
Uncle Barky:
"Your vocals and stage presence slipped on a banana peel from the very start. Stage fright is one thing, but you acted as though you'd just seen Cloris Leachman naked. It's best to put you out of your misery before the going gets really rough. Sorry kid, but I've seen more showmanship at a used car lot."
CASEY JAMES, 27, FORT WORTH
Song: "Heaven" by Bryan Adams
Kara:
"I think you got a little pitchy when I was in your arms at one point in the chorus . . . You are eye candy, but you are also ear candy."
Ellen:
"I could feel Kara undressing you with her eyes . . . You're going to get votes like crazy."
Randy:
"I like the whole swagger you got."
Simon:
"We both were cursed by good looks . . . You absolutely chose the right song. Obviously the Cougar (39-year-old Kara) here loves you. So you did great. Well done."
Uncle Barky:
"They're gonna milk this batty-eyed Kara angle for as long as they can. Don't get fazed by it. Just imagine being in the arms of Paula Abdul instead. You've got real talent and your relatively advanced age gives you the maturity to handle all the attendant nonsense. Let's hope that viewers don't hold the Kara Krush against you. Right now it's semi-entertaining, mainly because Simon's immensely enjoying himself. But nausea's just around the corner."
Uncle Barky's picks to evict during Thursday's vote-off of two males and two females:
Lambert and John Park or Jermaine Sellers. And among the women, it boils down to Ashley Rodriguez, Janell Wheeler, Lacey Brown and Didi Benami.
Of course I could be wrong. But that's the fun of it.