Local Nielsen ratings snapshot (Wed., Nov. 18) -- Mavs roll up nice numbers; CBS11 stops 10 p.m. bleeding
11/19/09 09:29 AM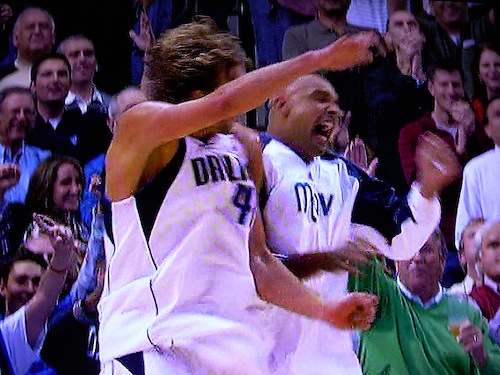 Dirk and Drew Gooden bang bodies, beat Spurs. Photo: Ed Bark
By ED BARK
The Dallas Mavericks' OT win against the Spurs, again powered by Dirk Nowitzki's close-out clutch-icity, drew the hometown five's biggest D-FW audience of the season after a late start to accommodate ESPN.
Mavs-Spurs also aired on TXA21, with an 8:42 start time and an 11:30 p.m. finish. TXA21's home-cooked presentation averaged 142,512 viewers while ESPN chipped in with 101,795. That's a grand total of 244,307 viewers, which is a nice early season windfall.
In Wednesday's 10 p.m. local news results, CBS11 stopped a 5-night losing streak to WFAA8 to remain perilously atop the total viewer Nielsens with five weekdays left before the November "sweeps" end on the day before Thanksgiving.
CBS11 capitalized on a nice-sized
CSI: NY
lead-in to draw 264,666 viewers in Wednesday's late night news competition. WFAA8 ran second with 196,803.
Through 15 nights of the sweeps, CBS11 is averaging 230,734 viewers while WFAA8 is a hair behind with 223,948. Both stations are drawing three times as many viewers as Fox4, which is a distant fourth with 74,649 viewers at 10 p.m.
CBS11 also won Wednesday's 10 p.m. race among 25-to-54-year-olds, the main advertiser target audience for news programming. WFAA8 still has a narrow lead on this scorecard, averaging 101,277 viewers in the 25-to-54 age range compared to runner-up CBS11's 95,139.
The race also remains very close at 6 a.m., where Fox4 still has a shot despite losing more than two-thirds of the time to NBC5 in the first 15 days of competition. On Wednesday, the Peacock nipped Fox4 in total viewers while Fox4 won by a more comfortable margin among 25-to-54-year-olds.
Through 15 days of the sweeps, NBC5 is averaging 122,153 total viewers at 6 a.m., with Fox4 pulling in 108,581. Among 25-to-54-year-olds, the Peacock has 73,656 to Fox4's 70,587.
WFAA8 swept Wednesday's 6 p.m. newscast competitions, and appears to have that one locked up in both ratings measurements.
It's still a horse race at 5 p.m., though, where NBC5 ran the table on Wednesday.
The 15-day averages at that hour show WFAA8 still leading in total viewers (115,367), with Fox4 and NBC5 tied for second (101,795).
Among 25-to-54-year-olds, Fox4 leads at 5 p.m. with an average of 55,242 viewers. Runner-up WFAA8 will need a big finishing kick to catch up after averaging 46,035 viewers in this age group through the first 15 days.