Idol: double shots of love for North Texas duo
04/07/10 08:58 AM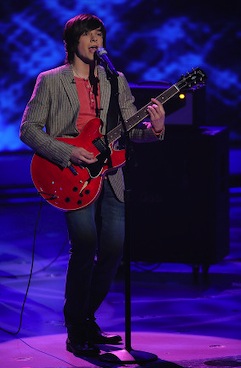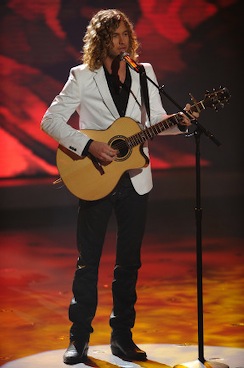 Duncanville's Tim Urban and Fort Worth's Casey James, strummed McCartney-Lennon tunes on Tuesday's American Idol. Fox photos
By ED BARK
Even Duncanville's much-mutilated Tim Urban got a collective back-pat from judges while Fort Worth's Casey James continued to bask in their glow on Tuesday's
American Idol
performance edition.
As long as they're both still standing we'll continue our weekly compendium of judges' actual comments (some not entirely lucid) followed by Uncle Barky's palate-cleansing sorbets. There's another vote-off Wednesday night, with Urban and James both hoping to join the Fox show's Elite Eight. Tuesday's sing-off was restricted to Lennon-McCartney songs.
TIM URBAN, 20, DUNCANVILLE
Song: "All My Lovin' "
Randy Jackson
-- "Is it a good 'Tim performance?' Listen, I think that was really a much better performance than you've had in the last couple of weeks . . . You even rock in kind of a Beatles-ish sort of 'do, man. Is that on purpose? It was a good 'Tim performance.' "
Ellen DeGeneres
-- "That was the perfect song choice for you, and it was your second best performance after
Hallelujah
. . . You have that Paul McCartney look about you right now. And girls go crazy over ya, and I thought you did very well."
Kara DioGuardi
-- "I've always thought your best performances were when you had a guitar. And you were true to that because it feels more honest . . . We have really come after you, week after week. And I like that you came out here today, you did take some of our criticisms."
Simon Cowell
-- "Taking everything into consideration, I thought you did really well tonight with that song. There was (sic) no gimmicks. It was just the right thing to do, you and the guitar. You didn't try to over-sing it. It really suited your voice . . . You take the criticism like a man. There's no whining . . . Anyone who's on this stage right now has got an advantage. You've been given a great opportunity. If you have to take a few little barbs along the way, so what? This is a shortcut to fame, and you've handled yourself really well."
Uncle Barky
-- "You know I love you, Tim. Oops, channeled Ellen for a sec. Sorry. It
was
the best you can do, but it still might not be enough to avoid elimination Wednesday night. Your best hope is to out-survive either Katie Stevens or Andrew Garcia. But she got raves from the judges after last week's Bottom 3 stint. And he somehow seems almost as Teflon-coated as you. Again, though, you're what this show needs -- a cute, smiling, fan magazine-ready, vocally-challenged personality in the mold of Sanjaya Malakar, but much better looking. Ratings again are down this season. They'll slip even further if you're sent packing."
CASEY JAMES, 27, FORT WORTH
Song: "Jealous Guy"
Randy
-- "I love seeing the whole sensitive vibe, the sensitive side of you . . . I was really impressed that you took this kind of leap. I love that you set yourself apart like that. You've got this kind of blues exterior, 'cause you got that Stevie Ray (Vaughn) thing jumpin' out. I love that you did this, man. It was so heartfelt. I really felt you with that."
Ellen
-- "That to me was your best performance to date. It was so soulful. I was moved by it, because you have a great voice -- and pretty hair. but I wanted to feel you really pour yourself into a song and not just sound great. And you did."
Kara
-- "What you showed tonight was a vulnerability, which has been lacking in some of your other performances . . . It's just showing depth, and that's what I wanted to see."
Simon
--"Goldilocks (contestants' have dubbed him that), I think it was the best performance of the night so far . . . I think the difference between week on week with you has been absolutely 'gi-normous.' And I thought it was your stamp on the song. I actually felt that you were emotional at the midway point of it . . . So that's why I am very, very impressed with you tonight."
Uncle Barky
-- "I'd envisioned you doing 'Back in the USSR' and rockin' the house in the midst of all the syrupy L-McC ballads by other contestants. But 'Jealous Guy,' from a Lennon solo album, turned out to be letter-perfect for you. Far and away the best vocal of the night. You're now the one to beat, and Simon is on the cusp of anointing you after he first jumps off his season-long Crystal Bowersox bandwagon. It's only a matter of time before that happens. You've got Carrie Underwood star potential, and it's already possible to envision a socko double bill with the two of you. Win or lose, a big and prosperous career beckons."