Local Nielsen ratings snapshot (Wed., May 5) -- Idol on cruise control as Fort Worth hopeful survives to sing again
05/06/10 11:38 AM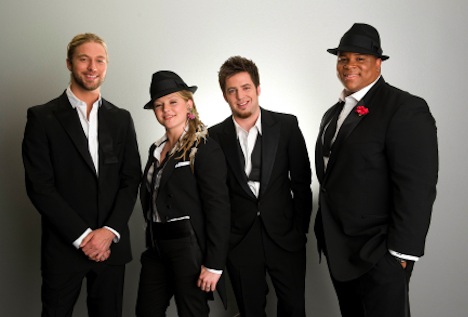 James gang: Fort Worth's Casey James (left) with Final 4 members Crystal Bowersox, Lee DeWyze and Michael Lynche. Fox photo
By ED BARK
It looked grim for Fort Worth's Casey James after judges tore a hole in his Tuesday night rendition of "Blue Skies" on Frank Sinatra night.
But Ol' Blue Eyes -- in this case the 27-year-old James -- not only survived but evaded the sinking Bottom 2 feeling he'd had for the past two weeks. Instead the field's youngest contestant, 17-year-old Aaron Kelly, took the gas after voters spared Michael Lynche. That puts James in
Idol
's Final Four, with Jamie Foxx showing up as "mentor" next week.
Sagging ratings nationally weren't reflected in D-FW, where the local angle played to the tune of a robust 427,537 viewers in the 8 p.m. hour. CBS' competing
Criminal Minds
ran a solid second with 305,384 viewers but finished farther behind with advertiser-craved 18-to-49-year-olds.
At 7 p.m., Fox's
Lie to Me
returned with tepid ratings, drawing just 81,436 total viewers (good enough for a third place tie with CW's
America's Next Top Model
) while falling to fifth with 18-to-49-year-olds.
CBS'
CSI: NY
won at 9 p.m. in both ratings measurements. The second episode of ABC's
Happy Town
ran a distant, across-the-board fourth at that hour.
In local news derby results, CBS11 swept the 10 p.m. Nielsens for the third straight weeknight win wins in total viewers and 25-to-54-year-olds, the main advertiser target audience for news programming. WFAA8 ran second in total viewers, but fourth with 25-to-54-year-olds, where it's yet to win through the first five nights of the 20-weeknight May sweeps.
Fox4 ended NBC5's string of doubleheader wins by topping the 6 a.m. ratings among 25-to-54-year-olds. But the Peacock was tops in total viewers.
WFAA8 won at 5 and 6 p.m. in total viewers and added a 6 p.m. victory in the 25-to-54 demographic. Fox4 ran a comfortable first at 5 p.m. with 25-to-54-year-olds, more than doubling the audience of its closest competitor, WFAA8.