Local Nielsen ratings snapshot (Wed., May 12) -- Local Idol angle boosts Fox/Fox4
05/13/10 01:10 PM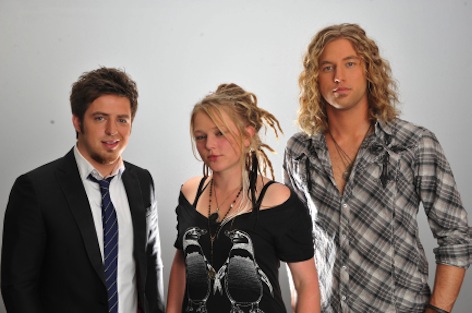 Casey James (right) with fellow Idol finalists. Fox photo
By ED BARK
Cool's Casey James made it to
American Idol
's Final 3 without much of a sweat Wednesday while the Fox hitmaker drubbed all competitors.
James, whose population 200 Cool hometown is about 40 miles west of Fort Worth, was the first of four contestants declared safe on
Idol
's latest results hour. Michael Lynche eventually was voted off, assuring James of a return home Friday to a parade and adulation as a down-to-the-wire contestant. Fellow survivors Lee DeWyze and Crystal Bowersox likewise will be feted in their hometowns before next Tuesday's penultimate performance edition. James, 27, already is booked for Friday's
Good Day
on Fox4.
Idol
's Wednesday haul of 463,255 D-FW viewers again led all prime-time attractions, with CBS' still formidable
Criminal Minds
the overall runner-up with 298,597 viewers.
Idol
's 8 p.m. dominance propelled Fox4's 9 p.m. local newscast to across-the-board time slot wins in total viewers (237,521), 18-to-49-year-olds (the key advertiser target audience for entertainment programming) and 25-to-54-year-olds (the preferred audience for news programming).
Over on KERA13, the 9 p.m. airing of
When You're Strange: A Film About The Doors
barely registered with 20,359 total viewers. A pity.
CBS11's 10 p.m. newscast claimed the total viewers crown, with Fox4, NBC5 and WFAA8 basically in a three-way tie for a close second place. But Fox4 vaulted to first place among 25-to-54-year-olds, with CBS11 sliding to fourth.
The 6 a.m. news race remained a dogfight between Fox4 and NBC5. They essentially tied for first place in both ratings measurements. But if you crunch the numbers into little bits, Fox4 led the Peacock by five-hundredths of a rating point in total viewers while NBC5 had a four-hundredths of a point margin with 25-to-54-year-olds.
Fox4 ran the table at 6 p.m. while WFAA8 did likewise at 5 p.m.