Just one station blows it off
04/13/07 11:39 PM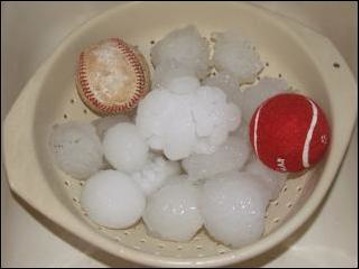 Hail big as baseballs -- or tennis balls. A viewer pic on WFAA.com.
Let the record show that three of D-FW television's four major news providers preempted their networks' prime time entertainment programming Friday night to cover the severe storms that ravaged parts of North Texas.
The lone exception: NBC5, which instead brought viewers a first-run episode of its parent network's little-watched
Raines
series and a
Law & Order
repeat. This is the station with the slogan "Not Just What Happens, What Matters."
Apparently it didn't matter enough that sections of Haltom City were torn apart while parts of East Dallas also had severe damage. Fox4, Belo8 and CBS11 rubbed out their entire prime-time entertainment lineup (7 to 10 p.m.) to bring viewers continuous live coverage. NBC5 punted at 8 p.m. Remember that.
Ed Bark