05/18/08 07:06 PM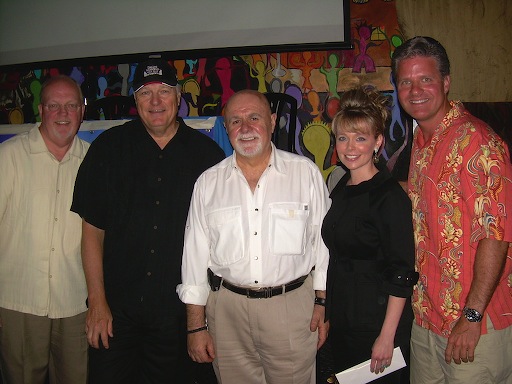 Saturday's Uncle Barky Show appearance by WFAA8's Dale Hansen and Pete Delkus netted a $1,000 donation from Stratos restaurant to the guests' designated charities. Left to right: John Dittrich representing the Bobby Bragan Youth Foundation; Hansen; Stratos owner Nick Rizos; Wendy Carter of the American Cancer Society and Delkus. That a total of $3,500 to various charities. Photo: Ed Bark
By ED BARK
Many, many thanks to all who attended Saturday's fifth Uncle Barky show at Stratos Greek Taverna.
Our biggest turnout to date watched a very lively interview session with WFAA8 sports anchor Dale Hansen and weatherman Pete Delkus, who regularly rib each other on the station's weekday newscasts.
Among many, many things, Hansen said he's never liked his first name, has always wanted a nickname and doesn't think there's much of a long-term future for sports segments on local TV newscasts. Hansen said it greatly surprised him when WFAA8 signed him all the way through 2013, which will give him 30 years at the station as he turns 65.
Hansen also said he remains on speaking terms with Dallas Cowboys owner Jerry Jones despite ripping him in a number of "Unplugged" commentaries, most pointedly for the team's recent signing of oft-jailed cornerback "Pacman" Jones. He compared owner Jones to an inflatable bop toy that keeps coming back for more.
But Dallas Mavericks owner Mark Cuban, another regular target, won't do interviews with him, Hansen said, because he's become wary of his "trick" questions.
Delkus, who spent ample time listening to and laughing at Hansen's riffs, recounted how longtime WFAA8 weatherman Troy Dungan personally laid the groundwork for his move three years ago from Cincinnati to D-FW.
He said that WFAA lately is trying at all costs to restrict severe weather cut-ins to commercial breaks even though this hits the station directly in its pocketbook.
Delkus, previously a pitching prospect in the Minnesota Twins minor league system, also recounted how he blew out his elbow while foolishly trying to match the speed of Nolan Ryan, who at the time still had a blazing fastball despite being as old as Delkus' father.
There's much, much more from both of them. And the entire interview session, in easily digestible chapters, soon will be available for viewing on
pegasusnews.com
. We'll keep you posted.
The guests' designated charities received another generous contribution from Stratos. On Hansen's behalf, $500 went to the Bobby Bragan Youth Foundation. And in Delkus' name, the American Cancer Society received a $500 donation.
We'll likely have at least one more show this summer before taking a break until fall. Stay tuned for guest announcements.