03/28/08 08:52 PM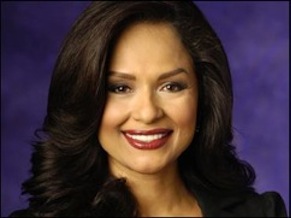 Maria Arita is out of the picture at CBS11By ED BARK
The purge continues at CBS11/TXA21, and they can't remove them fast enough from the shrinking
"News Team"
Web page.
Anchor/reporter Maria Arita and sports reporter Chuck Fisher also were dropped Friday as part of a CBS corporate-mandated downsizing. As previously reported (scroll down), they join CBS11 reporters Robert Riggs and Kaushal Patel, and producer John Sparks.
A number of off-camera station personnel also have been laid off, and the total body count could reach 60, according to sources.
Arita, who joined CBS11 in Dec. 2003, will go down as at least a footnote in the station's history. She co-anchored the station's first high-definition newscast, teaming with Doug Dunbar at 4 p.m. on Sept. 24th of last year.
Fisher, for whom no picture was available, could be seen with former Dallas Maverick Derek Harper on TXA21 during Thursday's pre- and post-game shows for the Mavs-Denver Nuggets. Now he's gone after being hired by TXA21 in September, 2006.
OK, let me step out of the straight reporting box for a few minutes to note that being owned by a network pretty much sucks.
In CBS11's case, as with other stations in the chain of command, edicts come down from on high to cut personnel in order to pay for the sins of the people who supposedly know what they're doing.
The Katie Couric-led
CBS Evening News
remains in the ratings crapper while the terminally audience-starved early morning show has hired and quickly fired yet another executive producer. Tough economic times also contribute to that sinking feeling.
CBS chairman Leslie Moonves, who increasingly talks out of his ass, reacts by ordering further cuts into what used to be the marrow of the network's overall news operation. Station presidents at the local level, in this case CBS11's Steve Mauldin, assume the position and do the best they can under the circumstances. But it's an illusion to think they really run their ships anymore. Genuine autonomy has left the building. Don't kid yourself that it hasn't.
Once upon a time, network ownership seemed to mean unlimited resources being poured into those stations lucky enough to be under the big umbrella. Now the opposite is true. Assets are sucked away, slowly but surely. Local anchors and reporters mean nothing to the absentee bean counters. They're numbers, not names. Moonves wouldn't know a guy like the banished Riggs from the guy who shines his shoes.
It's a shame that stalwarts such as investigative reporter Riggs and producer John Sparks aren't able to retire with a degree of dignity. Instead they're abruptly cut loose. And chances of finding further gainful TV news employment at their advanced ages are slim to none. Minus slim.
At CBS11 Friday, veterans took the gas in league with younger colleagues whose initial great expectations were staggered. It's easy to dismiss all of this as the way of the world. Except when it becomes the way of
your
world. Good luck to all.