02/27/08 12:04 AM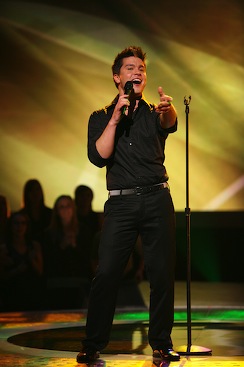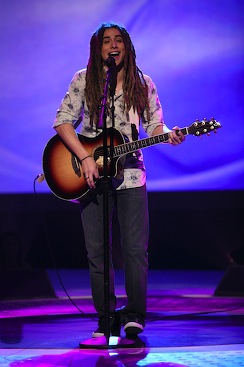 Grand Prairie's Jason Yeager and Rockwall's Jason Castro
By ED BARK
Likable Jason Yeager of Grand Prairie perhaps can pin his hopes on a full-blown Simon Cowell backlash.
If not, he's probably toast after his performance of The Doobie Brothers' "Long Train Running" during Tuesday night's 10-way battle among
American Idol
's remaining males.
Frankly it wasn't that bad. And even Cowell saw it as a faint praise improvement over last week's cardigan sweater-y "Moon River."
"The simple truth is last week was boring. This week was just awkward and ordinary," Cowell told him. "You're just a quite good singer who can't perform very well. So I'm very disappointed."
Those were his kudos. Yeager ended the song with his head bowed and arms outstretched, a "ghastly" maneuver that "was like you were drunk at a party or something," Cowell said.
Judges Randy Jackson and Paula Abdul didn't care much for him either. Yeager took it like the 28-year-old man he is, earnestly trying to explain his style and song choice to host Ryan Seacrest in lieu of firing back. But Cowell got bored with that, too, pleading for some "Oscar music" to play him off.
Rockwall's Jason Castro, who pleased the judges last week, fell short in their view with his guitar-strumming version of The Bee Gees' "I Just Want To Be Your Everything."
It was nothing special, said Simon. "I thought the song was horrible because it was too schmaltzy . . . You didn't do yourself any favors at all tonight."
Jackson panned his vocals, but said "it's cute with the guitar."
"It's cute I can get used to," said Abdul, who nonetheless told Castro, 20, to shuck the guitar if he survives Thursday's vote-off of two more males.
Teen sensation David Archuleta ended Tuesday's show and remained a show-stopper with a strong, distinctive version of John Lennon's "Imagine."
Imagine this, though: "I want to just squish you, squeeze your head off, dangle you from my rear view mirror," said Abdul.
Cowell then heaped more pressure on the kid by telling him, "Right now you're the one to beat. And there are 19 very miserable contestants here right now."
Four of them will be going home Thursday. Archuleta may well be going the distance.