03/19/10 04:11 PM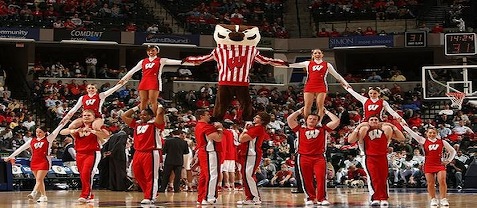 Your friendly content provider's alma mater, the University of Wisconsin, squeaked into the second round of the NCAA basketball tournament Friday afternoon with a 53-49 win against the smallest school in the field, Wofford College.
The 4th-seeded Badgers survived against the 13th-seeded Terriers on the strength of pro prospect Jon Leuer's clutch basket and free throws in the final minute. He broke his wrist earlier in the season but returned a few weeks ago. Without him against Wofford, Wisconsin would have been a rotting slice of limburger cheese served on month-old Wonder Bread.
The game of course wasn't carried in D-FW, save for the closing minute or so. But the greatness of
ncaa.com
allowed me to watch the whole thing while growing ever fatalistic about this being the most humiliating defeat in Badger basketball history. It was scrappy Wofford's first-ever NCAA tournament appearance, and I don't want to ever see them again.
The only drawback to ncaa.com is its blocking of any switching to other games when commercials interrupt the game you're watching. But that in itself is genius -- and a very small price to pay in the grand scheme of things.
Wisconsin now will play 12th-seeded Cornell on Sunday. D-FW's CBS11 will have little or no interest in that one either, but ncaa.com again will save the day. Whew. A loss to Wofford would have been truly woeful. But now there's a fighting chance to go to the Sweet 16. And hey, we'll take it.
Ed Bark