Campos will keep host engagement at Planned Parenthood's celebration of "Pro-Choice Dallas"
02/21/08 06:12 PM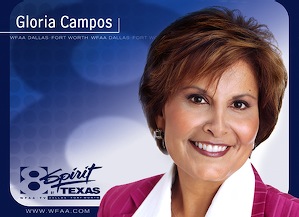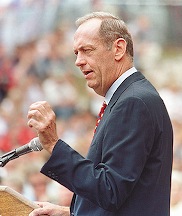 Emcee Gloria Campos and keynote speaker Bill Bradley.
By ED BARK
WFAA8 news anchor Gloria Campos plans to honor a commitment Friday to be "Mistress of Ceremonies" at a Planned Parenthood of North Texas awards luncheon even though the organization is characterizing it as something of a partisan political rally.
Press materials are headlined, "Pro-Choice Dallas comes out to celebrate at Annual Awards Luncheon." Planned Parenthood says that "2,000 pro-choice guests" are expected for the noon luncheon at the Hilton Anatole.
The keynote speaker is former U.S. Senator Bill Bradley, who recently endorsed Barack Obama for president. "It's an election year, and reproductive freedom is a hot ballot topic," Planned Parenthood says.
WFAA8 president and general manager Mike Devlin, in an email response Thursday, said he discussed the event with Campos after being told of the wording in the organization's "Media Advisory."
"She has no control over the press release and was unaware of its existence," Devlin said. "She has served as emcee for the past several years and agreed to participate because of Planned Parenthood's involvement in medial care for indigent women that involves prenatal care and breast cancer. This group runs 22 clinics in North Texas. That is her primary interest, not abortion services that Planned Parenthood also provides."
Devlin said it would be "unfair" for Campos to cancel her appearance "at the midnight hour." But he said that station management and Campos would "review her participation in the future if the group asks her to participate."
Campos co-anchors WFAA8's No.1-rated 6 and 10 p.m. newscasts with John McCaa.