Cause for alarms: Scott Sams again is early to rise. But will the ratings?
04/23/07 12:22 PM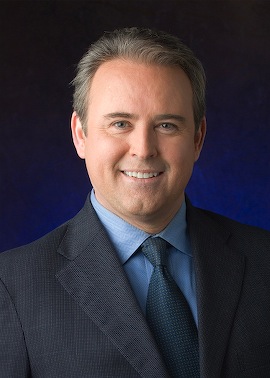 This just in: Scott Sams' new CBS11 photoBy ED BARK
Scott Sams knows how the morning jam is spread. Returning to D-FW's big leagues Monday after a year in the minors, CBS11's latest Mr. Coffee signaled a new dawn by pledging to remain at his post "as long as the numbers are there."
Ain't that the truth. But the former longtime Belo8 anchor has the advantage of starting from a ratings gully. His new station's early morning audiences are minuscule compared to those of Fox4, NBC5 and Belo8. Sams, who's nothing if not well-known in this market, almost assuredly will nudge them upward at least a little in the coming months. If not, he'll soon be toast on the demanding 5 to 7 a.m. shift.
Dapper and a bit chunkier in a double-breasted navy blue suit, Sams has returned Lazarus-like from little KTEN-TV in Sherman-Denison, where he spent the last year anchoring after Belo8 cut him loose in September 2004 after an almost 20-year ride.
On his first day at CBS11 he amiably went about the business of being welcomed every 20 minutes or so. This included poking fun at himself as the resident Charlie among Angels Shannon Hori, Julie Bologna and Teresa Frosini.
"Well, speaking of rolling, I feel like you are on a roll today," Hori said after a story on a "rolling goodwill tour" to benefit U.S. troops overseas.
"Oh, thank you," Sams rejoined. "I thought maybe you were talking about my stomach."
Later, after briefly facing the wrong camera, he joked, "I'm new here." Pause, one-two. "Anyway it's now time to welcome me to the show (again)" shortly before the 6 a.m. hour.
Sams retains his anchorman's pipes and looks as though he's still at home with the snappy but cheery banter required of an early morning personality. But he also did a solid job of interviewing a correspondent stationed on the Virginia Tech University campus, where classes resumed Monday. Points in his favor: Sams actually asked pertinent questions rather than making rhetorical pronouncements such as, "I know it's been a trying time for these students and the healing has only begun."
Sams and Hori seemed to work well together, although she plans to leave the station when her contract expires in July to spend more time with her Florida-based husband.
By then Sams will be the old hand on deck. And we'll also know a lot more about whether he still has a loyal fan base to fall back on.