CBS11's Brooke Richie is latest to leave D-FW
07/23/08 08:34 AM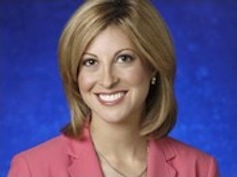 By ED BARK
Add CBS11's Brooke Richie to the ballooning list of D-FW television reporters with exit strategies.
The reporter's last day at the station will be on Aug. 4th, assistant news director Sarah Garza says in a memo sent to staffers and obtained by unclebarky.com.
Richie, who joined CBS11 in early 2005 from KENS-TV in San Antonio, is moving to Colorado to join her husband as he starts a new career in Denver, Garza says. "We tried to sabotage the sell of their house here in town as long as we could, but the damn thing sold so she is heading west."
Garza otherwise praised Richie as a "huge asset to our newsroom. Her hard work and excellent attitude will be sorely missed."
Richie is a graduate of Duke University and the Columbia School of Journalism. She also has worked at WBZ-TV in Boston and WIVT-TV in Binghamton, NY.
A small village full of anchors and reporters have left D-FW stations this year, both voluntarily and involuntarily. My latest
"Media Matters"
article in
D CEO
magazine details many of these departures. It was written well before CBS11's Tracy Rowlett and Julie Bologna announced their exits while anchor Kenneth Taylor was informed that his contract isn't being renewed.