Claw your way to the top of new cat-themed game show
06/19/08 10:48 AM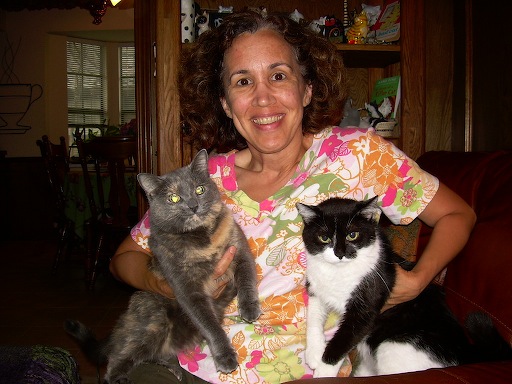 Noted Garland Catwoman Madeline Bark, friendly Snickers (left) and dour Cookie tentatively will join the Dallas auditions for GSN's The Meow Mix Game Show, set to premiere in November. Photo: Ed Bark
Get your cats in gear for two days of Dallas auditions tied to GSN's (Game Show Network) upcoming
The Meow Mix Game Show
. A $1 million grand prize is at stake, plus a $100,000 donation to a local animal shelter.
Owners -- although no one really owns a cat -- must be over the age of 18. And their pets have to be in carriers for auditions scheduled on July 5 and 6 at the
Hotel Palomar
, 5300 East Mockingbird Lane. The first day's auditions are from 10 a.m. to 4 p.m., and the second day's from noon to 6 p.m. A pound of Meow Mix's Wholesome Goodness cat food will be given to Operation Kindness for each team that auditions.
GSN says that a single team from Dallas will be picked to compete with "cat-testants" from seven other cities. The human auditioners will be quizzed on "general feline knowledge" and also be on the receiving end of a "Hollywood-style" screen test to determine "how well cat and human appear on camera."
(This just in: Having seen these rules, the above-pictured Cookie says she's definitely not coming. But Snickers still plans to put her best paws forward.)
Extra information and complete rules are available
here.
The show is scheduled to premiere on Nov. 15th.
***
Also on the audition front, the 18th edition of CBS'
Survivor
will bring a search party to Dallas on Friday, June 27th from 11 a.m. to 7 p.m. at Al Lamb's Dallas Honda Powerhouse Dealership, 9250 LBJ Freeway (between Greenville and Abrams).
The show as usual is looking for "strong-willed, outgoing, adventurous, physically and mentally adept" contestants. You have to be at least 18 years of age and be willing to undergo a background check. For further eligibility requirements and an official application, go
here.
Ed Bark