Cuban packs the house at Saturday's climactic Uncle Barky Show
10/06/08 09:23 AM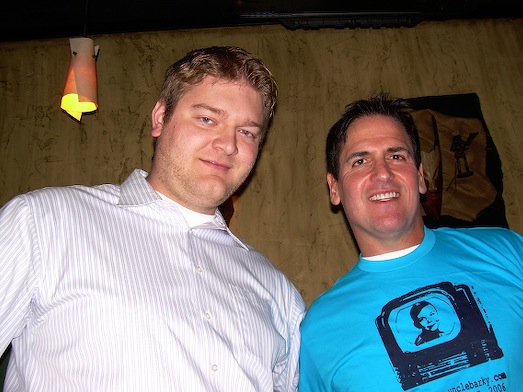 Dallas Mavericks owner and TV entrepreneur/star Mark Cuban sports a lovely parting gift -- an inaugural unclebarky.com T-shirt -- at Saturday's seventh Uncle Barky Show. At left is Matt Miller of the Dallas Mavericks Foundation, recipient of a $1,000 donation in connection with Cuban's guest appearance. Photos: Ed Bark
By ED BARK
Many thanks to the many who attended Saturday's seventh Uncle Barky Show with guest Mark Cuban. It finally happened after an originally scheduled Sept. 13th episode was waylaid by concerns over the impact of Hurricane Ike.
Our venue for all seven shows, Stratos Global Greek Taverna, donated $1,000 to Cuban's designated charity, the Dallas Mavericks Foundation.
That's a grand total of $5,500 in worthy contributions during times when the economy keeps sinking to new lows. In that context, this was the last Uncle Barky Show at Stratos, and we greatly thank management for all of their generosity. They've gone way above and beyond.
Your friendly content provider's recent health problems also are a warning that one person can only do so much. Stress can crush you if you let it. Many already have learned that lesson. It's time for me to at least enroll in a 101 class. Unclebarky.com will remain a high priority. It just can't be the only one. After two years of virtually non-stop diligence, it's time to ease off the throttle a bit.
For the record, here's our roll call of previous local media guests at the seven Uncle Barky Shows:
Dec. 1st
-- Gordon Keith of "The Ticket" and "The Gordon Keith Show"
Jan. 19th
-- Tracy Rowlett, generation-spanning anchor at CBS11 and WFAA8
Feb. 23rd
-- Tim Ryan and Megan Henderson, co-anchors of Fox4's early morning "Good Day"
April 12th
-- Documentary filmmakers Mark Birnbaum and Manny Mendoza, who collaborated on the recent "Stop the Presses"
May 17th
-- Dale Hansen and Pete Delkus, respectively the sports and weather anchors at WFAA8
July 19th
-- News anchor Tracy Kornet and the Eleven21 band
Oct. 4th
-- Mark Cuban
Thanks to all of our guests, to Stratos and to the many who attended these shows. It's been quite a party, and I know we gave a variety of worthy charities a welcome boost during tough economic times. Without question, that's been the very best part of this.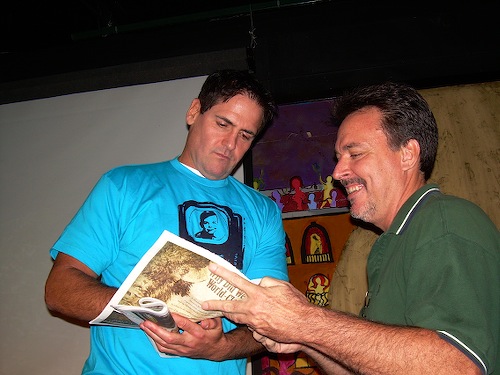 Cuban signs an autograph as The Uncle Barky Show signs off.