No more Urban renewal: Duncanville's "Teflon Tim" is latest Idol evictee
04/22/10 08:13 AM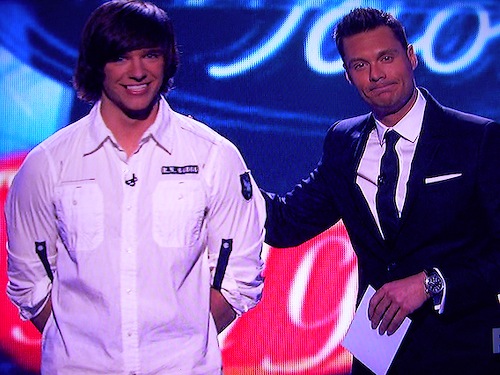 Last seen smiling, Tim Urban is out of Idol picture. Photo: Ed Bark
ED BARK
Tim Urban, whose unfailing Cheshire Cat smile belied his mostly panned singing performances, finally took a knockout punch at the end of Wednesday night's
Idol Gives Back
charity extravaganza.
The 20-year-old mop top from Duncanville, added to
American Idol
's final 24 only after a previous qualifier was declared ineligible, made it all the way to the Fox hit's final seven before judges and viewers finally combined to strike him down. Cuddlier than a koala bear, he remains prime
Glee
material and also will be a part of this summer's 10-contestant
Idol
road show.
Urban's departure leaves Fort Worth's Casey James, 27, as the lone North Texan standing among
Idol
's last six. But after cruising through previous elimination rounds, James is suddenly very vulnerable. He stood next to Urban Wednesday night after landing in the dreaded Bottom Two for the first time.
Once seemingly a lock for at least the Final Four, James now will have to regain momentum and restore himself as a judges' favorite. Two straight weeks of uncommonly bad reviews have left the golden-haired adonis on the ropes. But a comeback could still be in the cards if he can re-summon the passion and artistry that made his performance of John Lennon's "Jealous Guy" a show-stopper just two weeks back.