Baseball and presidential politics mix as Fox opens 2008 World Series
10/22/08 02:16 PM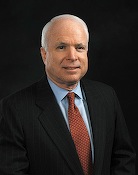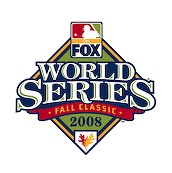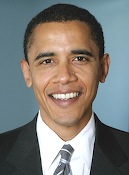 By ED BARK
Republican John McCain and Democrat Barack Obama will be on the same team -- for a few fleeting seconds at least -- during Fox's coverage of the 2008 World Series, which begins Wednesday, Oct. 22nd, at 7 p.m. (central).
The network, as part of its plan to portray diamonds as one of the country's best friends, will open each game with spots that present baseball as a "beacon of hope through some of America's most difficult times."
They're narrated by Michael Douglas, who says that during the roughest patches in American history, there is one faithful companion. "Standing by our side, as it does tonight," he says, "has been baseball."
Obama and McCain have played their parts off-camera by recording "inspirational quotes from American icons." In an extended and suitably stirring
preview
sent by Fox to TV critics, Obama reads words from Franklin D. Roosevelt and Albert Spalding while McCain stands in for Herbert Hoover and Dr. Martin Luther King, Jr. The two disparate presidential candidates then join in the end to simultaneously quote John F. Kennedy: "I think that both baseball and the country will endure."
This year's "Fall Classic" matches the upstart Tampa Bay Rays, in existence for just 11 seasons, against the Philadelphia Phillies, who began playing ball in 1883 as The Quakers. They officially became the Philliies in 1890, and have won just one World Series in all those years -- in 1980.
Now the Rays can match that total. Or as crusty icon Uncle Barky once said majestically -- and at length, "The Chicago Cubs, whom I foolishly favored as a Dairyland youth in those cherished
Dick Drott
glory years, have yet to even
play
in a World Series during my too many years on this godforsaken planet."
Even so, "Play ball!" Absence (of the Cubs or my since adopted Milwaukee Brewers) only makes the heart grow fonder.