Championship season: Sole mates Emmitt & Cheryl win it all
11/15/06 10:57 PM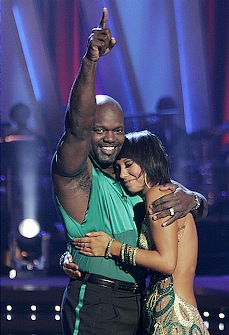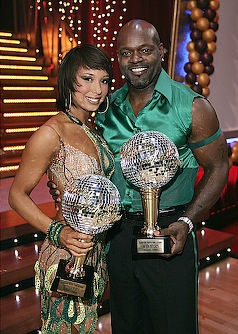 By ED BARK
An athlete's foot is usually used for running, kicking or sticking in one's mouth.
Former Dallas Cowboys great Emmitt Smith found a fourth use Wednesday night. His amazing feet spurred him to an amazing feat. The three-time Super Bowl champ became the third celebrity winner of ABC's top-of-the-charts
Dancing with the Stars.
No one picked him at the start and few picked him down the stretch, save for unclebarky.com on Oct. 24th. Back-pat accomplished.
"It is awesome! It is awesome!" Emmitt exulted, hugging pro partner Cheryl Burke and hoisting the show's suitably gaudy mirror ball trophy while confetti fell and a live audience roared to the sound of -- what else -- Queen's "We Are the Champions."
Don't scoff. Emmitt threw himself into this competition, both taking it seriously and having a ball with it. He fought through nicknames such as Twinkletoes, The Big Easy and Sir Shimmy to eventually prevail over younger, quicker, slicker Mario Lopez. His high-beam smile and work ethic in the end counted for more than Mario's big divot dimples and flash-dance style. Yes, this is a dance competition. But it's also a personality contest, and in that respect Emmitt may have played his greatest game. He won on the strength of a final viewer vote-in after the two competitors tied with overall 89 scores in Tuesday's three-pronged dance-off.
None of his former Cowboys teammates or owner Jerry Jones could be seen in the audience for Wednesday's live finale. But Troy Aikman popped up in a videotape to tell America, "He may win this thing. And if that happens, I don't think any of us are going to give him a hard time."
Emmitt's biggest fan was his wife, Patricia, who sat in the peanut gallery week after week. On the last two shows, she was joined by the couple's two oldest daughters. They got to see Dad dance the samba and mambo Tuesday night before capping it off with an old-school freestyle turn to the tune of MC Hammer's "U Can't Touch This."
His partner, Cheryl, also guided and glided Drew Lachey to victory on last season's
Dancing
. They seemed to form quite an attachment, with Cheryl telling Emmitt in a pre-taped segment, "No matter what happens tonight, you are my true champion. And you will always be No. 1."
Emmitt later told her, "I'm your big bull." She good-naturedly declined to be his "little bull," but let's not take it any further than that. This clearly was a platonic partnership that clicked whenever they had to floor it. She led the way, he followed. In an earlier arena, that was Daryl "Moose" Johnston's job.
No longer seen as just a jock, Emmitt now can reap the dividends of being America's newest huggy bear. Endorsement opportunities have opened wide -- at least for a while. Madison Avenue should be dancing in the streets. They've got a new go-to guy who's light on his feet and easy to like.
Even better, he's a proven winner who hoofed and puffed and blew everybody away on dancing's biggest stage. That's called stepping up.