Fox's New Girl still the network's brightest new light
09/28/11 12:59 PM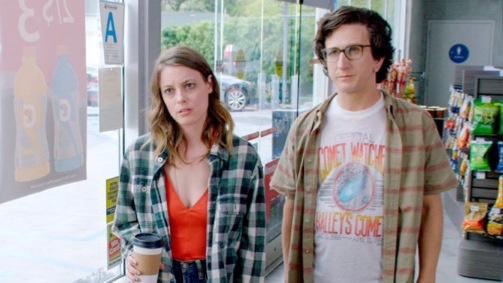 Occasionally happy together: Gillian Jacobs and Paul Rust of Love.
Netflix photo
Premiering:
All 10 Season One episodes begin streaming Friday, Feb. 19th on Netflix
Starring:
Gillian Jacobs, Paul Rust, Claudia O'Doherty, Briga Heelan, Brett Gelman, David King, Dave Allen, Steve Bannos, Chris Witaske, Chantal Claret, Iris Apatow, Tracie Thoms, Jordan Rock
Produced by:
Judd Apatow, Paul Rust, Lesley Arfin, Brent Forrester, Dean Holland
By ED BARK
@unclebarkycom on Twitter
It's been standard TV sitcom procedure for the loud, plus-sized guy -- OK, the blustering fatso -- to get the slimmer, pretty girl.
Jackie Gleason (
The Honeymooners
), Jim Belushi (
According to Jim
), Kevin James (
The King of Queens
) and Mark Addy (
Still Standing
) have been among the numerous beneficiaries.
Netflix's
Love
, which begins streaming Season One's 10 episodes on Friday, Feb. 19th, deals from the same playbook but sharply alters the male physicality. This time it's a thin, plain-faced, bespectacled, soft-spoken nebbish with the full name of Gus Cruikshank (Paul Rust) who eventually becomes alluring to a messed-up beauty named Mickey (Gillian Jacobs from
Community
).
Their rather desperate lives and disparate dynamics, with a strong supporting cast in tow, make
Love
a consistently involving crash course. Netflix thinks so, too. It's already ordered a Season Two of co-creator Judd Apatow's (
The 40-Year-Old Virgin, Knocked Up
) first fully hands-on TV series since 2001's
Undeclared
. His principal creative partner is Rust, whose witty, but wan 31-year-old Gus is dumped in Episode 1 by a girlfriend who just can't take his supposedly "fake" niceness anymore.
Mickey has the opposite problem. An addict on several levels, she invariably ends up severing relationships by spewing venom. The extended first episode works hard at being off-putting with its fusillade of f-bombs and other unsavory moments. And while Mickey fires away, Gus screws up a gift, three-way bedroom scene that frankly strained credulity anyway. By the end of the opener, however, Gus and Mickey are chance-meeting at a convenience store. His act of benign kindness puts
Love
in motion as a study of two opposites who attract, repel and bring out the best/worst in each other.
"So in a year you'll be as old as Jesus when he died," Gus tells Mickey upon learning she's 32. Woody Allen will be envious when he hears that line.
Gus otherwise is a tutor on the set of the cheesy supernatural TV series
Witchita
. His main pupil is 12-year-old Aria (Apatow's daughter, Iris Apatow), who has him wrapped around her oft-petulant little finger. Mickey is a program manager at a satellite radio station, where she must endure taskmaster host Dr. Greg (Brett Gelman) and his phony
Heart Work
call-in show.
A major third wheel of
Love
is the chipper Australian Bertie (Claudia O'Doherty), who moves in with Mickey and her cat, Grandpa. Initially written as wide-eyed and naive, Bertie becomes something considerably more than that. Also written somewhat inconsistently is a knockout
Witchita
actress named Heidi (Briga Heelan). Her growing relationship with Gus seems to be grounded in genuine gratitude for his tip on how
not
to get written out of
Witchita
. But
Love
is too obvious in this respect -- and then too abruptly cynical down the stretch.
There are many little pleasures, though. Gus, an aspiring scriptwriter, has a group of friends who occasionally get together to improvise closing credit theme songs for movies that didn't have them, including
The Perfect Storm
and
Carlito's Way
. These particular scenes are a lot of fun, as is an Episode 4 segment in which Gus makes a winning impression despite himself by leading an impromptu party band in an exuberant cover of "Jet."
Love
for the most part loses it in Episode 6, though. The needless, real-life Andy Dick plays himself as a -- what else -- over-indulger in everything. Mickey is along for the ride on an impromptu binge that seems to go on interminably and for the most part, inconsequentially. But Episode 7 then fully recovers with Mickey's and Gus's excursion to L.A.'s The Magic Castle, of which he's a devoted member.
The set of
Witchita
is pretty much a Hollywood cesspool epitomized by the show's coldly efficient executive producer, Susan Cheryl (a very effective Tracie Thoms). But one saving grace is a true-blue craft services guy named Kevin (Chris Rock's younger brother, Jordan Rock). "Nothing dries up a vagina more than a paragraph, man," Kevin says in instructing Gus on the art of texting seductively. In his own way, he's speaking from the heart.
Rust and Jacobs are the drive shafts, though, keeping
Love
on all fours with characterizations that likely will keep most viewers invested. Netflix made all 10 Season One episodes available for review, with the majority of them extending past the 30-minute mark. But I got sucked in, watched them all, and didn't feel suckered in the end. Wherever Mickey and Gus are going seems worth the extended trip.
Love
is a many-spindled thing. But its smooth/sharp edges keep it in a groove.
GRADE:
B+
Email comments or questions to:
unclebarky@verizon.net