Just a blister or a third degree burn?
04/01/07 10:43 PM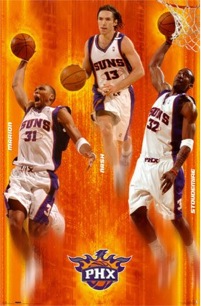 By ED BARK
"The season series means absolutely nothing," ABC's play by play guy, Mike Breen, said near the close of Sunday's nationally televised demolition of the Dallas Mavericks by the Phoenix Suns.
Oh, he's so wrong.
It's the overall season records of the two teams that are starting to look meaningless. But in the Mavs-Suns universe, the team from the West now very much looks to be inside the head of the Dallas Dirks.
America at large couldn't have come away from Sunday's game without wondering, "What's so special about this Dirk Nowitzki guy?"
Why? Because he tends to look like a lumbering giant against the Suns while former Mav Steve Nash never fails to dazzle. Now it's starting to get worrisome, even though the Mavs are having a "magical" season and all that. Because when you look at the two posters above, don't those three guys on the right scare you more than the quintet on the left?
Sunday's game showed that Dallas should be very afraid of this Phoenix team. Nash is on a stick-it-to-Mark Cuban mission, now more than ever. The guy makes things happen with the greatest of ease -- or so it seems -- whenever the Mavs are on his receiving end.
So it doesn't really matter that Phoenix followed its earlier overtime win at Dallas with two lopsided losses to the Detroit Pistons and Denver Nuggets. Nor does it matter that Dallas reeled off nine straight wins before falling hard to the Suns, 126-104, in Sunday's rematch at Phoenix.
What mattered were those two Dallas-Phoenix games. The Mavs blew the first one with a fourth quarter collapse. And in this latest crunch-time closing 12 minutes, the Suns outscored the Mavs 37 to 22.
Don't buy ABC's or anyone else's crap that Phoenix had more to play for than Dallas. The Mavericks were embarrassed on their home floor in the last meeting with the Suns. Payback should have been paramount.
Also, Dallas had history as an incentive. No NBA team had ever put together four double-digit win streaks in a single season. That could have been Dallas. Not now.
Bottom line: Nowitzki is one helluva player. But Phoenix's defense has his number and Nowitzki's li'l buddy has the Mavericks all figured out. In Amare Stoudemire, Nash also has the horse he didn't have in last year's playoffs.
So be very, very afraid if Dallas and Phoenix clash again later this spring. Sunday was in fact a statement game on a big national stage. And as statements go, the Mavs only raised more big question marks.